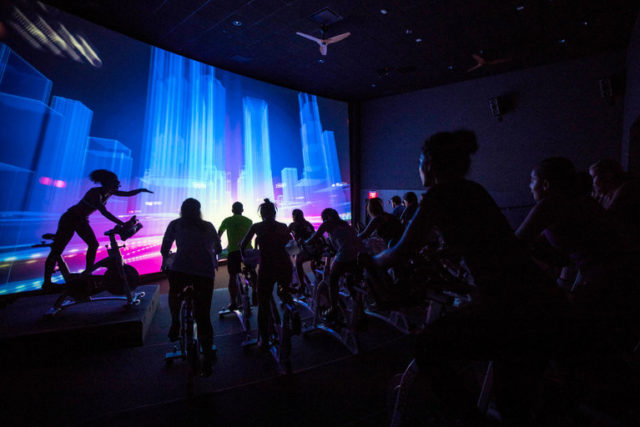 Indoor cycling, commonly referred to as 'spinning,' has had a big uptick recently, with the likes of Peloton and Soul Cycle coming into the market.
Now a new spin [Ed. groan] on the phenomenon is taking off in New York, with a studio that places riders in front of a 40-foot-wide by 24-foot-high Imax screen.
ImaxShift takes the very popular idea of spinning with other riders to a new immersive experience of a large screen and surround-sound system.
The videos are timed to the workout, in order to make spinning movements feel more natural. One segment places you on a roller coaster track, with an instructor directing you to speed up as you go "downhill," just as you would in real life — if, of course, you were inclined to ride a bicycle on a roller coaster track.
"Your legs are burning and you are sweating, but you are focused on this beautiful scene in front of you that you are so enraptured by," Jaclyn Cohen told the New York Times. "You are transported to another world, driving through the streets of Paris or going up a hill in Dubai."
Besides the real world scenes are futuristic jaunts to other planets and even a roller coaster scene. Unlike traditional spin classes, the instructors only speak to give instructions or motivation for particularly difficult sections.
The studio was designed by Imax which has recently made its technology more widely available, though this is the first non-entertainment use of it.
Approximately 4,000 riders have pedaled at ImaxShift since it opened, according to the company. As at other spinning classes in New York City, the clientele skews toward women.