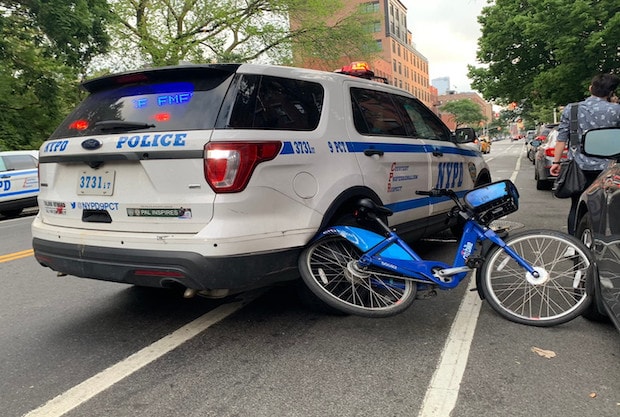 An NYPD officer rammed his car into a cyclist in an attempt to stop the rider for allegedly running a red light. The cop even had the audacity to tell the man that he ran him over "for his own safety."
"Now at this point, you're essentially you're being forcefully stopped now you're riding recklessly and refusing to stop," the police officer is seen saying to the cyclist.
In the video, you can see the cop car veered into the bike lane and the bike got wedged inside the wheel of the police car.
#NYPD run over #nyc #bicycle to stop them from running a red light ton"prevent reckless driving." pic.twitter.com/AITjqNwYiZ

— Garvey Rich (@Garvey_Rich) July 5, 2019
"He hit me and the bike with said vehicle," said the cyclist. "He's sitting inside the car, rolled up his window because he doesn't want to talk to me and I'm assuming he's writing a ticket."
The NYPD press office responded to the viral video on Twitter, backing up the officer's claim that the cyclist ran two red lights, was biking with headphones and failed to comply with a lawful order.
"When approached by cops, cyclist jumped the bike & it became wedged between the police vehicle and a parked vehicle," the NYPD's public information office wrote on Twitter.
The cyclist later received four summonses, according to police—two for running a red light, one for wearing headphones, and one for failing to comply with a lawful order.