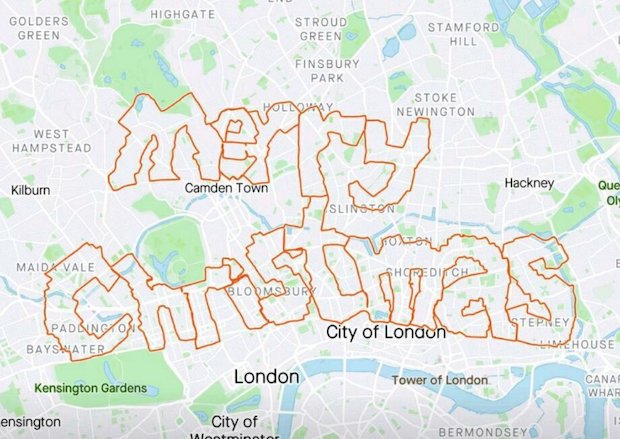 Veteran Strava artist Anthony Hoyte has created a 'Merry Christmas' message on the streets of London after completing a 79-mile (127 km) route.
Anthony Hoyte, 52, had previously created Frosty the Snowman and a reindeer on Strava, but this year he mapped out the words 'Merry Christmas' for his online portfolio, 'Peddling Picasso'.
Speaking to BBC News, Hoyte said: "I love that my drawings – especially the Christmas ones – seem to be appreciated."
"There are so many road closures for Crossrail and there were a couple of gated estates I hadn't anticipated," he said.
"Also, the 'r' in Christmas was supposed to take in a bit of Regent's Park, but it was closed by the time I got there."
"For most of these obstacles, I managed to find an alternative route.
"But for Crossrail at Euston I had to 'cheat' – pause my recording, navigate to the other side of the works and then set it going again. This creates a straight line between the two points."