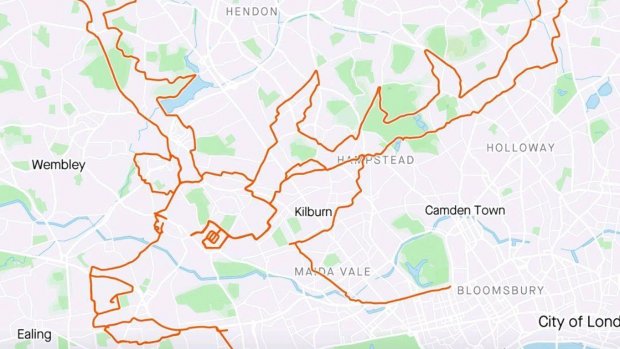 A keen cyclist has brought some festive cheer to the streets of north London by using Strava to map out a reindeer.
Cheltenham-based Anthony Hoyle creates art using Strava. In 2017 he cycled to create the outline of a snowman, and last year he made a picture of Father Christmas.
Now he pedalled more than 127km around London, starting in Hammersmith, went north as far as Edgware before heading south again and east through Hampstead Heath and Wood Green.
To complete the detailed ride, Hoyte took nine hours of moving time and just an extra hour for breaks, presumably to eat mince pies and drink mulled wine.
It's that time of the year again when I cycle round congested streets in the rain looking for some festive cheer!: https://t.co/4u80fR8eNt@Strava @cyclingweekly #stravaart #stravart #gpsdoodle #gpsart #cycling #Christmas #reindeer #Rudolph pic.twitter.com/Nzm3Rch9nJ

— Anthony Hoyte (@anthoyte) December 9, 2019
Speaking about his latest feat, he said: "I'm pretty happy with it. Until you get back and upload it, you're not quite sure whether it's going to work or not.
"I live in the countryside and it's very different to coming into London," he said. "Particularly around Neasden and Wembley, it's not the most pleasant cycling.
"That's about my maximum distance – I wouldn't want to go too much above that. It's a long day in the saddle."