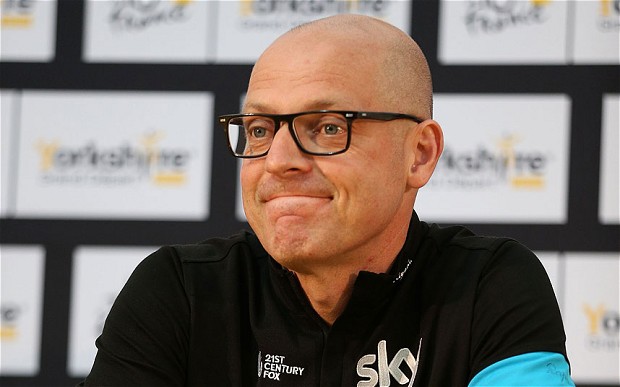 Team Sky boss Dave Brailsford admitted Tuesday that "mistakes were made" by the British outfit with regard to their anti-doping and medical procedures but denied any "wrongdoing".
British anti-doping authorities are investigating Sky and British Cycling over a mysterious package delivered to Bradley Wiggins at the 2011 Criterium du Dauphine.
Questions have also been asked over three "therapeutic use exemptions" or TUEs granted to Wiggins in 2011, 2012 and 2013.
Richard Freeman, the then Team Sky doctor, has said the package contained the legal decongestant Fluimucil and Wiggins, in common with Brailsford, has repeatedly denied any wrongdoing.
Freeman had been due to appear before Britain's Culture, Media and Sport select committee last week, but was too ill to attend.
That hearing saw Nicole Sapstead, the head of United Kingdom Anti-Doping (UKAD), lay into Sky for failing to keep accurate records after telling the committee that Freeman had said the information was lost when his laptop was stolen while on holiday in Greece in 2014.
It has been alleged that the package contained the banned corticosteroid triamcinolone.
Sapstead said although there was no record of Freeman ordering Fluimucil, there were invoices for Kenalog — a brand name for triamcinolone.
On Tuesday, Team Sky published a letter and supporting documents sent to committee chairman Damian Collins MP, a Conservative lawmaker, in which the cycling chief again insisted that no-one in his set-up had deliberately violated anti-doping rules.
Soon afterwards the chairman of the Team Sky board, Graham McWilliam, tweeted to say they remained "100% behind team and Sir Dave Brailsford" after the man regarded as the 'father' of modern British cycling's success faced calls for his resignation.
In his letter, Brailsford said: "Self-evidently, the events of recent months have highlighted areas where mistakes were made by Team Sky.
"Some members of staff did not comply fully with the policies and procedures that existed at that time.
"Regrettably, those mistakes mean that we have not been able to provide the complete set of records that we should have around the specific race relevant to UKAD's investigation. We accept full responsibility for this.
"However, many of the subsequent assumptions and assertions about the way Team Sky operates have been inaccurate or extended to implications that are simply untrue.
"There is a fundamental difference between process failures and wrongdoing. Our commitment to anti-doping has been a core principle of Team Sky since its inception. Our mission is to race and win clean, and we have done so for eight years."
Geraint Thomas denied reports of a team mutiny on Monday, insisting neither he nor any of his team-mates, who include reigning Tour de France champion Chris Froome, wanted Brailsford to quit.
"It shouldn't even need saying, but we all back Dave B 100%!!! I've known him a long time and I wouldn't want anyone else leading ," tweeted Thomas.
Last Saturday, Brailsford revealed he had received triamcinolone treatment from Freeman for a knee injury in 2008.
Triamcinolone is the drug used by Wiggins prior to three grand tours between 2011 and 2013 after he was granted TUEs, which permit cyclists to take substances that would usually be banned in the course of legitimate medical treatment.