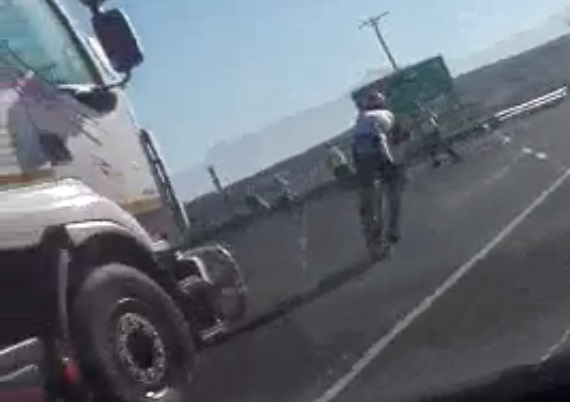 A video of a rider in the Tour of Good Hope narrowly escaping a possible collision with a truck went viral on social media.
In the video, a truck can be seen passing Rohan du Plooy's following support car in the left lane moments before the cyclist was about to turn left. At the time, both the cyclist and support vehicle had veered into the right lane, seemingly creating the impression that there was space on their left. The South African rider called the incident "probably my closest call ever".
Probably my closest call ever….

Greatfull to be alive#TOGH pic.twitter.com/SLoPZMltzH

— Rohan_du Plooy (@RohanduPlooy) 7 martie 2017
The race organisers said the roads were not closed to traffic – as the race is an amateur one – and that the rider's team car should have kept him safe.
"In the video that is circulating on social media the rider can be seen narrowly avoiding a collision with a truck," the statement said. "Unfortunately, some members of the public are criticising the organisers for the situation."
"The roads are open to normal traffic and the rider should never have moved into the right-hand lane with the impending left-hand turn coming up.
"It is the responsibility of the support vehicle to ensure the safety of the rider. And hence to take all necessary steps to improve situations that could impact on the rider's safety.
"In this regrettable situation, with the truck coming from behind, the onus was on the rider's support team/vehicle to protect him from traffic that could lead to a dangerous situation.
"The correct procedure would've been to stay in the left-hand lane to block the truck from catching up and crossing the path of the rider before his impending left turn.
"There was no way that the driver of the truck would've known that the rider was about to turn across the left lane from the right-hand lane.
"Four marshals were on duty at the turn and there was nothing that they could have done to avoid the situation.