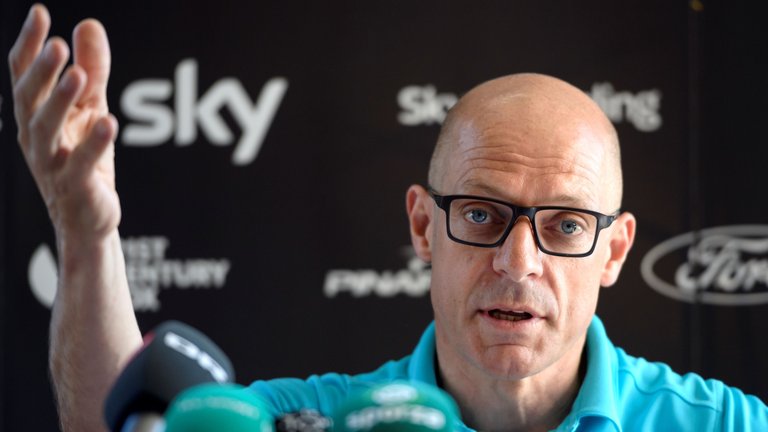 The mystery package at the centre of a UK Anti-Doping investigation contained the decongestant Fluimucil, Team Sky principal Dave Brailsford said today.
Speaking at a Culture, Media and Sport select committee hearing, Brailsford confirmed the nature of a delivery made by British Cycling coach Simon Cope to Team Sky at the 2011 Dauphine Libere after fellow cycling chiefs had pleaded ignorance.
While Bradley Wiggins has been facing months of scrutiny over the contents of the mysterious jiffy bag he has had his reputation hauled over the hot coals.
Many have questioned why it has taken three months for the Team Sky principal and former head of British Cycling to come out and tell the public what was delivered to Wiggins. The drug apparently costs about eight euros in France – with more questions raised as to why Sky's doctor, Richard Freeman, could not buy the product there. Instead it was taken on a plane by British Cycling staff member Simon Cope to the Alpine climb of La Toussuire in France.
"If that was the sole purpose of someone flying out, it would be an extreme step. The facts of the matter are that Simon Cope was flying out anyway," Brailsford said.
"It's the easiest possible way. He's got his own store in Manchester, he's coming out already. It may be where the whole situation has been slightly misled…that the whole purpose of Simon Cope's trip to the end of the Dauphine wasn't to deliver a package. He was coming anyway. He was coming and he was asked to bring something from the doctor's store."
The hearing ended with Brailsford re-emphasising how badly he had handled the mystery package and TUE sagas.
"There are lessons to be learned. I have handled this situation very badly. But we have reviewed all our policies and how we use TUEs in the future and how do we gain and provide transparency while protecting competitive advantage."