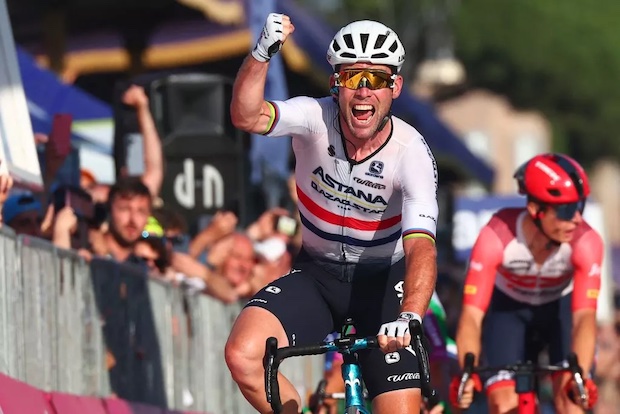 Mark Cavendish could hardly ask for a better last Giro d'Italia stage as the Astana rider won the final stage on the streets of Rome in his final day of racing in the Italian grand tour. 
"It's beautiful, what a way to end my Giro d'Italia!' Cavendish said. "My first Grand Tour victory was here in Italy in 2008, in Reggio Calabria, so to win in Rome is special. It's the first time I've raced here, so to win is super nice.
"I couldn't have ended my racing career in Italy with any better way than winning in Rome. It's a beautiful place to race. It's perfect, really perfect."
Geraint Thomas made a surprise appearance at the front of the peloton in the final 3km, helping his friend to win the final stage.
"I'd kind of said jokingly, 'Fancy doing a lead out?' Then he just shouted: 'Cav!' and did it," Cavendish explained. "He's so special and one of my best friends over the years".
"We saw yesterday with what he said, how upbeat and ever optimistic he is, despite losing the maglia rosa. That's him down to a treat, it's how he's always been. He always sees a glass half full. That's why he's special.
"More than a great bike rider, he's a 'f*cking good person and a friend."
"To win with the boys, my friends and teammates, it's one of those special stories that you have to get emotional and tell it with your hands like Italians do,' Cavendish said. "I suffered a lot in the last two weeks. Like a lot of guys, I've been sick. There was no way I'd have got through the mountains and to Rome without my boys around me.
"I've been part of some incredible teams, and you just know when you deserve a break. We deserved something from this Giro, and I'm happy to deliver it for the team."