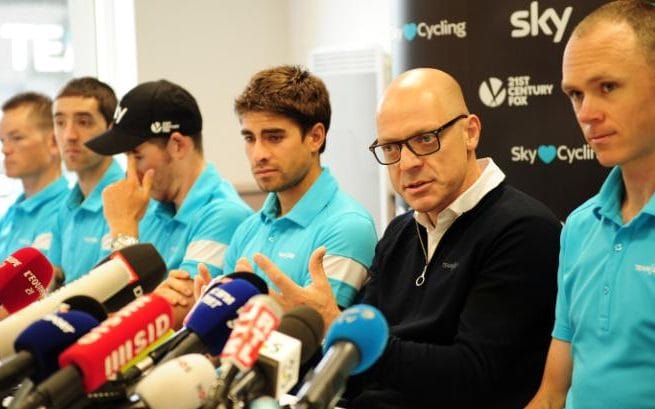 The UK Anti-Doping chief blasted British Cycling, Team Sky and their doctor Richard Freeman for not keeping medical records which could shed light on whether star cyclist Bradley Wiggins received a banned medical product.
Nicole Sapstead, appearing before the all-party House of Commons Culture, Media and Sport Committee looking into doping in sport, said Freeman claimed the information was lost when his laptop was stolen while on holiday in Greece.
She said she had yet to receive confirmation from Interpol as to whether the theft was reported. Freeman did not testify Wednesday, saying he was too ill to attend.
Sapstead had hoped to bring clarity to whether a package sent out to Team Sky for eight-time Olympic gold medallist Wiggins in June 2011 at the climax of the Criterium du Dauphine contained the legal decongestant Fluimucil, as Freeman says.
It has been alleged, however, that the package contained the banned corticosteroid triamcinolone and Sapstead said although there was no record of Freeman ordering Fluimucil there were invoices for Kenalog – a brand name for triamcinolone.
Sapstead alleged there are substantial amounts of Kenalog at British Cycling's headquarters in Manchester – Team Sky is its road-race offshoot – which suggests several riders use it.
However, she could not state categorically that this is what Wiggins had been sent in 2011 – he took it legally when he won the 2012 Tour de France having obtained a therapeutic use exemption (TUE) because he said he needed it for asthma provoked by pollen.
"There are no records… he (Freeman) kept medical records on a laptop and he was meant, according to Team Sky policy, to upload those records to a dropbox that the other team doctors had access to," said Sapstead, whose own enquiry has consumed 1,000 man hours and involved interviews with 34 current and former cyclists and British Cycling and Team Sky staff.
"But he didn't do that, for whatever reason, and in 2014 his laptop was stolen while he was on holiday in Greece."
While Interpol are still to get back to her over whether Freeman reported the theft he did report it to British Cycling.
Earlier in the session Simon Cope, at the time a British Cycling coach and the man who had the package entrusted to him to take out to France, failed to shed any light on what was in it.
Cope's 50-minute testimony failed to impress the lawmakers with one, John Nicolson, tweeting: "I'm left wondering whether I'd buy a used bike from Simon Cope and suspect the answer is no.
Cope said he had been obeying orders from then0boss Shane Sutton to deliver the package.
"Why would I question it? Why would I question the integrity of our governing body? I just didn't ask. You may think I'm stupid," said Cope in answer to a question as to why he hadn't asked what was in the envelope.
"Maybe I was doing everything possible to keep a job (he was women's road team manager). I could see it was part-time and 12 months down the line I was made redundant. I have a family to look after.
"It must have been something medical because it was for Dr Freeman, but I had no reason to doubt it."