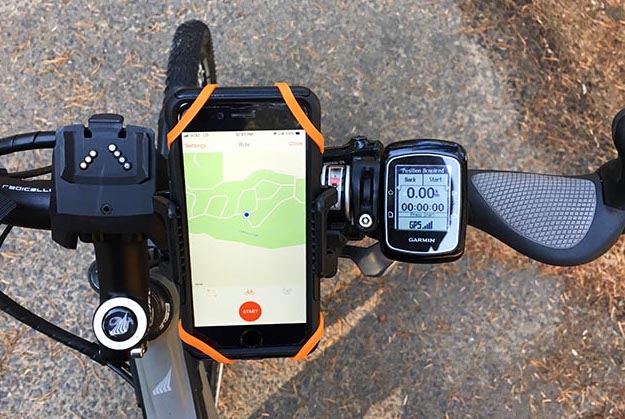 These days your first experience of using any sort of cycling computer, particularly with a navigation or mapping aspect, is likely to be a smartphone app.
There are loads of iPhone and Android apps aimed at cyclists, runners and walkers. Some of them are much better than others, but in terms of their suitability for the task, they all have one fundamental flaw – the hardware they run on. Smartphones with zillions of apps are incredible devices, but sometimes you still need something which is designed specifically for the job.
Before you can determine whether it's best to use your smartphone as your primary cycling GPS device or utilize a dedicated computer, there are several factors you'll need to consider.
Price
The cost of a cycling computer can range from $25 to a few hundred. On the other hand, you won't incur any new cost if you've already got a smartphone—unless, of course, you're unfortunate enough to crash.
Battery life
Everyone hates seeing the 'battery life: 10%' sign flash up on your screen, half way through a 50-mile ride.
The Wahoo Elemnt has a stated life up to 17 hours, whilst the Garmin Edge 520 lists a 15 hour span. The iPhone 8 has a stated battery life of 26 hours, compared to 14 hours for the iPhone 7. In all cases the stated hours will be reduce based on functions used, and factors such as screen brightness.
Using a GPS app 'significantly decreases' battery life on a phone, whilst the cycling computer is designed with this purpose in mind.
Maps
When it comes to mapping, the iPhone has a lot of options, like Gaia GPS, Trailforks, MTB Project, OnX, so you can easily match the capabilities of Garmin that comes with a strong set of base maps. Both can also be connected to Strava for easy downloads and uploads of your rides, so overall they perform similarly.
Size
Today's wide-screened smartphones are much larger than any standard cycling computer. This will play a factor in how much room you'll have on your handlebars—especially if you use a headlight for commuting. And if you're a weight weenie, it's likely that your phone (plus a case) will outweigh a cycling computer.
Accuracy
To receive the most accurate data possible, you'll need to have speed, cadence and power sensors on your bike. If you're using a smartphone app that relies solely on GPS, your numbers won't be as accurate as a computer that communicates with these sensors. On the flip side, buying and setting up speed, cadence and power sensors can be complicated and expensive, and may not be necessary unless you're a serious cyclist.
Which one is better?
Thanks to the built-in mapping capabilities and connectivity options, the Garmin is a clear choice for cyclists who enjoy measuring and tracking advanced data. The battery life also makes it well worth the price for those who regularly go for long rides or bikepacking trips. On the other hand, if you're a cyclist that doesn't regularly ride over 3 hours and doesn't need advanced data, then the iPhone will do just fine.