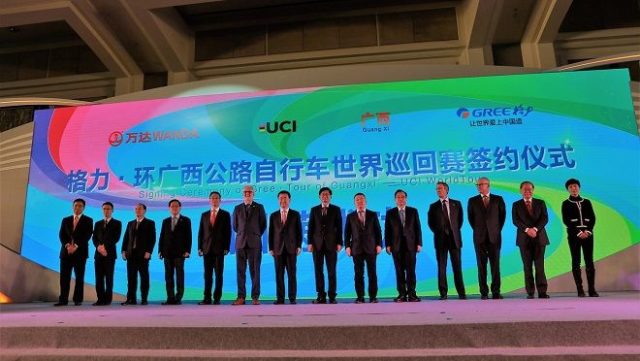 The UCI and Wanda Sports announced today an agreement that will develop men's and women's elite and grassroots cycling across various disciplines in China.
The agreement includes the creation of the Tour of Guangxi, a new UCI WorldTour race, taking the men's professional road cycling peloton to one of China's most popular tourism destinations. To be held in October, this event will pass through a mix of metropolitan areas and countryside scenery over 6 days of racing. Starting from 2017, the Tour of Guangxi will run alongside a new women's elite race which has applied for UCI Women's WorldTour status as of 2018.
Both races will incorporate mass participation events, enabling amateur cyclists of all levels and abilities to ride part of the elite course. A school cycling programme will run in Guangxi Province, and a national promotional tour will help to spread the passion and excitement for the international event across the country.
The Tour of Guangxi will receive extensive international and national TV coverage including up to 150 minutes of daily live coverage featuring international graphics and English commentary.
After the first two editions of the UCI Cycling Gala hosted by Abu Dhabi in 2015 and 2016, this celebration of cycling will move to China in 2017. The annual event rewarding the year's greatest achievements in professional road cycling will take place in the mountain city of Guilin, venue of the Tour of Guangxi's final stage finish.
The first three editions (2017, 2018, 2019) of the brand-new UCI Urban Cycling World Championships will also take place in China at the end of October, bringing together the very best of Mountain Bike Cross-Country Eliminator, Trials and BMX Freestyle Park.
Wanda Sports will build a cycling centre that will serve as a satellite to the UCI World Cycling Centre in Aigle, Switzerland.  The centre will include an international competition 250m indoor track, a BMX track and a road circuit, with the most talented young riders being selected to spend time at the UCI World Cycling Centre.
UCI President Brian Cookson said: "We are absolutely delighted to announce this partnership with Wanda Sports which will provide a huge boost to cycling in China and I would like to thank Wanda Sports for their support and commitment to our sport. The UCI's main role is to grow and develop cycling globally and China provides us with a wonderful opportunity to engage with literally hundreds of millions more people.
"In addition to staging races, it is crucially important that we have facilities to develop young athletes and I am particularly pleased that Wanda Sports will build and fund a development centre linked to the UCI World Cycling Centre in Switzerland. In Rio, we had 34 former or current UCI WCC trainees competing for Olympic medals and with this investment by Wanda, it is clear that in the future we will see more and more Chinese athletes competing at top international level in all cycling disciplines."