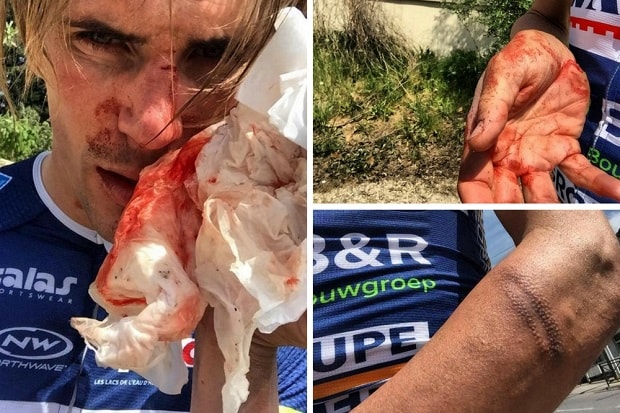 French rider Yoann Offredo was ordered to pay €700 in fines and damages in court after a judge ruled he attacked people in a car earlier this year.
In April, the Wanty-Groupe Gobert cyclist posted pictures of the injuries he sustained when he was assaulted during a training ride, including a broken nose and severe bruising.
The 30-year-old, who was 14th at both the Tour of Flanders and Paris-Roubaix this season, said: "I started riding a bike at the age of 12 with all the feelings of being carefree that goes with it. I never imagined that from this passion would be born a career, that of a bike racer.
"Nor did I ever imagine that in the course of my career I would meet some magical people, who in some cases have left us way too soon. I never imagined either that this job would be so dangerous. I never imagined that exercising my profession would at times involve me risking my life."
However, a French court has ruled it was Offredo who attacked those he clashed with. The judge imposed a suspended fine of €400 and he was ordered to pay €300 in damages.
The driver of the car and the passenger were also found guilty of wrong doing and sentenced to a suspended fine of €700.