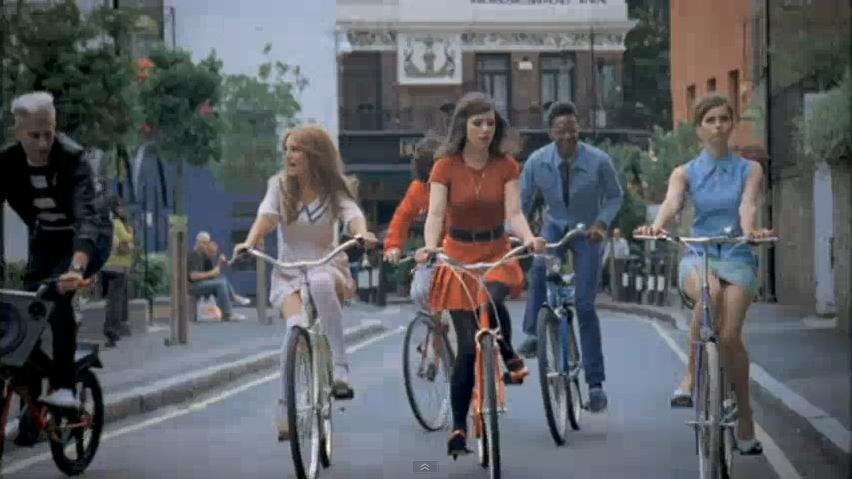 When it comes to songs about cycling, there are two distinct categories: the bleeding obvious (like Queen's Bicycle Race) and the more subtle (who knew Judas Priest's Freewheel Burning was a bike song, despite the obvious title?).
What is perhaps interesting is that many of these songs were written because the artists were keen cyclists themselves. Talking Heads' David Byrne is the most celebrated singing cyclist, having penned the book Bicycle Diaries and even designing a set of unique bike parking racks.
He's not alone: punk band Abdoujaparov named themselves after Djamolidine, the Uzbek wildman sprinter. Even Mick Jagger is known to appreciate the whiff of bike lube. Many years ago a cycling journalist we know found himself on the Stones' private jet, simply because Mick discovered he wrote about bikes.
Here's a pick of our favorite cycling-themed songs:
Queen – Bicycle Race
For the video to this track, the band hired a stadium and filled it with dozens of naked ladies on bikes. The 1970s, there.
Kraftwerk – Tour de France
Sampling and mixing various cycling noises, this song is a celebration of cycling, as it seems that a number of the group not only love cycling, they've also raced.
Pink Floyd – Bike
Syd Barrett has a bike, you can ride it if you like. Psychedelic pop whimsy from the early days of the Floyd.
Judas Priest – Freewheel Burning
These guys loved cycling and the song was after a descent of the legendary French mountain, the Galibier.
The Chemical Brothers – Velodrome
The official theme of the 2012 Olympics cycling events. A bit of a tribute to Kraftwerk, this one.
Beach Boys – It's A Beautiful Day
The masters of that sunny 70's California vibe are clearly talking about cycling. Well, we think so anyway.
Mark Ronson – The Bike Song
Just to dispel the notion that we know nothing of music beyond the late-1980s, here's one from modern-day singer/songwriter and producer Mark Ronson.