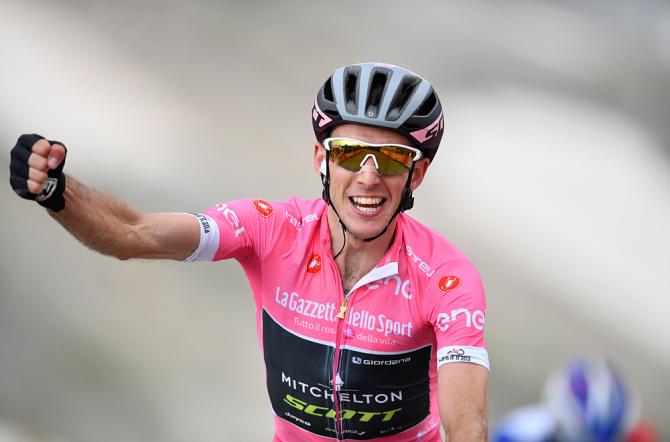 Mitchelton-Scott has unveiled the squad that will take on the upcoming Giro d'Italia with Simon Yates leading the way.
Yates, who finished eighth overall in 2019 and spent 13 days in the Maglia Rosa in 2018, will return for the third consecutive year in an attempt to add another Grand Tour victory to his Vuelta a Espana win in 2018.
The 28-year-old will be protected on the flat roads by the likes of Australian's Michael Hepburn and Cameron Meyer and Grand Tour debutant Edoardo Affini.
The experience of American Brent Bookwalter and Australian Damien Howson with guide the Briton in transitional phases before the climbing legs of Jack Haig and Lucas Hamilton take over in the higher mountains.
"Tirreno was a great victory and I'm very proud of what I accomplished there but the big goal has always been the Giro, so I hope I can hold my form from there until the end of the Giro", says Simon Yates.
"Since then, I have returned to altitude in Andorra to finish my preparation at home, so that I can hit two birds with one stone; spending some much needed time at home, while still preparing the best way possible to arrive in a great space for the Giro.
"The Giro is a hard and unpredictable race. You need to be ready at any moment to adapt the strategy to prepare for victory. Normally at the Giro the weather is getting better day-by-day as we start in Spring and approach summer, whereas this year will be the complete opposite. I'm expecting some bad weather this year and I'm mentally prepared for that.
"I'm very happy with the team we have assembled. The team is basically our team from Tirreno where we worked extremely well together and that is very important going forward into the Giro, to have the understanding of how each other work together on and off the bike.
"I'm excited to get started with the boys and can't wait to be there in Sicily."
Mitchelton-Scott at the Giro d'Italia (3-25 October 2020): Edoardo Affini, Brent Bookwalter, Jack Haig, Lucas Hamilton, Michael Hepburn, Damien Howson, Cameron Meyer, Simon Yates