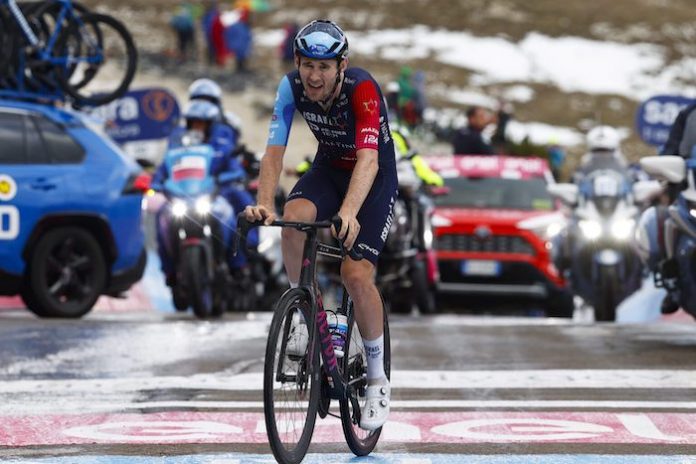 Giro d'Italia's most combative rider Derek Gee has signed a long-term commitment with Israel-Premier Tech.
The 25-year-old Canadian, who impressed in the past Giro d'Italia with his inexhaustible offensive spirit, has extended his contract with the team until the end of 2028.
"We knew Derek had a big engine when we took a chance on him, and signed him to our U23 Continental program a couple of years ago. But, at this year's Giro, Derek proved that he has race smarts, and the ability to perform with the best riders in the pro peloton. It was a real coming out party for Derek, along with the young teammates who accompanied him on our Giro squad. Accordingly, we decided to reward Derek by ripping up his neo pro contract and signing him to a new six year deal, that will ensure his future," said Israel-Premier Tech owner Sylvan Adams.
"I've known Derek since he was a boy, winning local races in Canada, as he accompanied his father (against whom I competed in Master's races) to weekend bike races. IPT is Derek's natural home, as it is for the other aspiring Canadians, and Israelis, that we have in our development pipeline. With Derek, we are JUST. GETTING. STARTED. We expect big things from this talented rider in the near future."
Just over a week after riding into Rome for the final stage of the Giro d'Italia, where Gee battled to four second places, two fourth places, won the most combative rider classification, and finished second in the sprint and mountains classifications, the magnitude of what he achieved in his maiden Grand Tour is starting to sink in.
"Having an all WorldTour program to start the year was definitely an amazing experience, to line up at such prestigious races, but I think it really showed the confidence the team had in me and absolutely helped me race with more confidence in myself. The Giro was about as far from what I expected as it gets going in, but it's been sinking in the last week, the rides that I had there. I'm really happy to be able to show why the team had confidence in me with that calendar and put that on paper with those results," explains Gee.