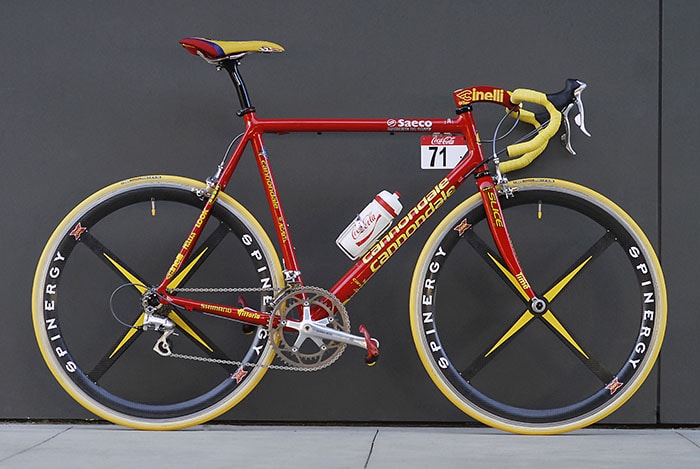 In 1996 the Italian Saeco team were setting the World on fire with a guy called Mario Cipollini winning stages all over the place along with the Italian national pro road championships. That year they rode Moser bikes, but a change was on the way.
Sponsoring an Italian Pro team spread the Cannondale word, not just in Europe, but all over the World. Being connected to Saeco and Cipollini didn't do Cannondale's image and commercial success any harm.
Saeco is a coffee machine manufacturer and has that Italian style and flair that suited 'Super Mario' and Cannondale, they were a perfect match. In 1997 the Saeco/Cannondale/Cipollini combination hit the big time in Pro cycling.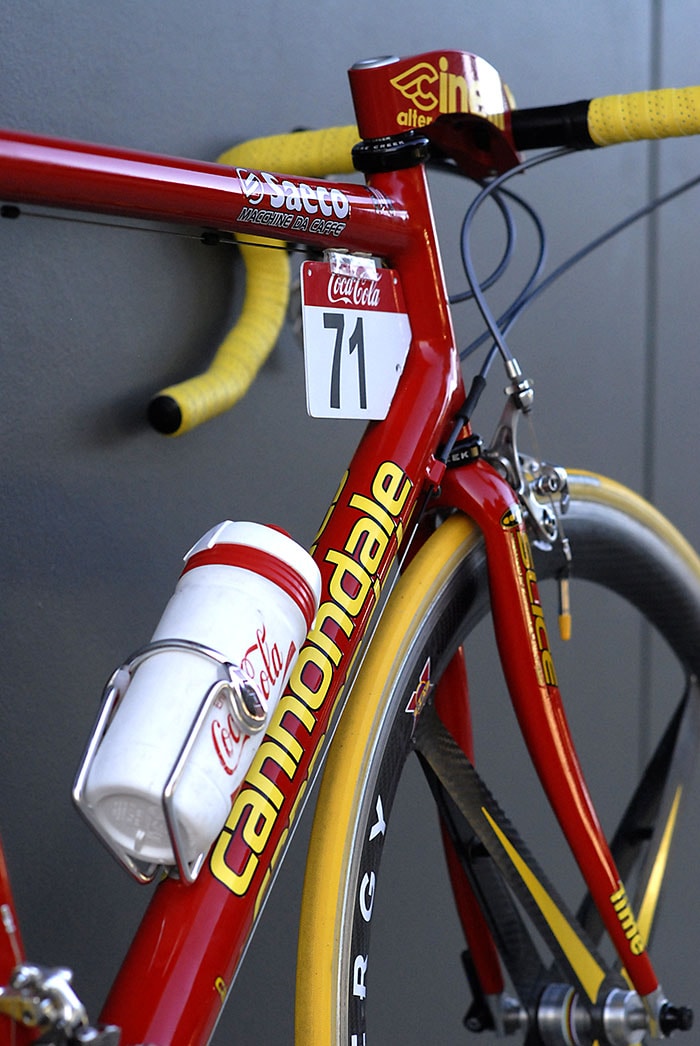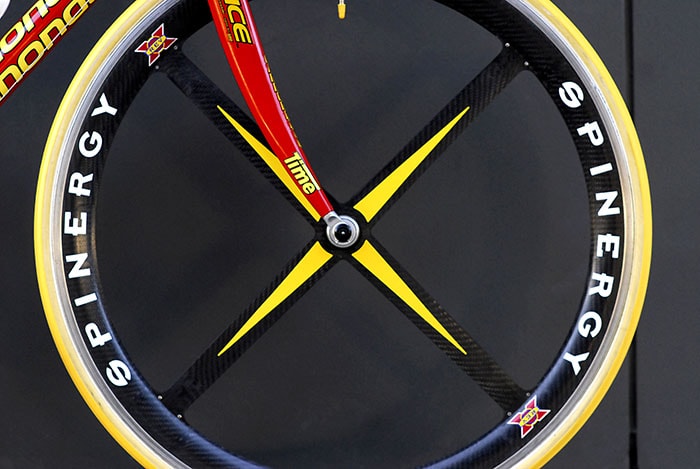 Full specs:
FORK: Carbon Slice by Time
PAINT: Cannondale Factory finish – Red Yellow
HEADSET: Cane Creek Solos
STEM: Cinelli Alter
HANDLEBARS: Cinelli Eubios 44
BAR WRAP: Fizik
BAR PLUGS: Cinelli
FRONT BRAKE: Dura Ace 7700
REAR BRAKE: Dura Ace 7700
BRAKE LEVERS: Dura Ace 7700
FRONT DERAILLEUR: Dura Ace 7700
REAR DERAILLEUR: Dura Ace 7700Nine Speed
CASSETTE: Dura Ace 7700
CHAIN: Dura Ace 7700
CRANKSET: Dura Ace 7700
CHAINRINGS: Dura Ace 7700
BOTTOM BRACKET: Dura Ace 7700
PEDALS: Red Saeco branded, Look PP 396
FRONT WHEEL Spinergy Rev X with minimal stiffness yellow Spinergy stiffeners
REAR WHEEL: Spinergy Rev X with stiffest Red Spinergy stiffeners
TIRES: Vittoria Competition Strada
SADDLE: Selle Italia Century 100 siganture Mario Cipollini Lion King version
SEATPOST: Cannondale Competition Coda
SEAT CLAMP: Cannondale
BIDON CAGES: Elite