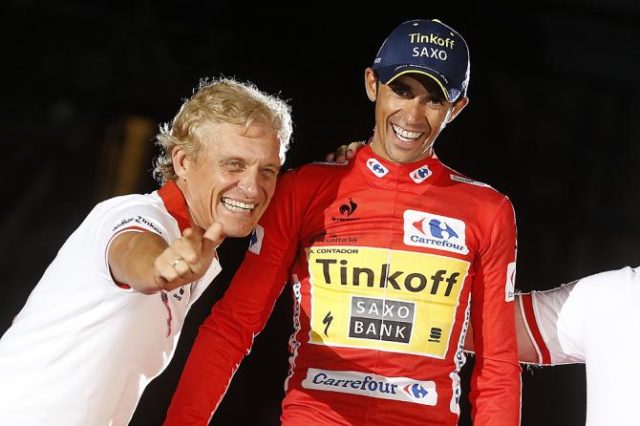 Oleg Tinkov launched an unprecedented attack on his former rider Alberto Contador.
Tinkov wrote in his Instagram account: "Contador is piece of Spanish s***, and never will win anything, [he's] too old and too evil. Diet made him crazy and greedy??"
The outspoken Russian – who has opted to disband his Tinkoff team- has often publicly vented his frustrations in the past and Tinkov was particularly critical of Contador following  the Lombardia.
Contador's attitude has been openly questioned by Tinkov – who sounded out a warning to the Spaniard's new team Trek-Segafredo.
"I think he's going to be like a limping duck. He's going to look stupid. At the Vuelta he was dropped by the best four or five riders, next year it will be by the best 20 riders. I don't think he's ever going to win another Grand Tour. He should forget about it and quit", said Tinkov in October.
According to Contador, their disagreements started when the team's first manager, Bjarne Riis, left the team over alleged mutual agreement. In his own words: "I knew that everything would change with his departure. He was a team leader who could manage a group of 70 people. You can go in with a lot of money but you must have a number of capabilities to manage. Bjarne Riis had them and Tinkov didn't."