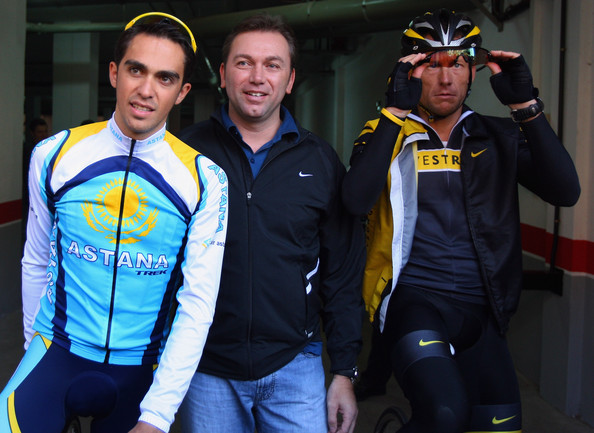 Johan Bruyneel, the manager of Astana at the time,  offered his take on the rivalry between Alberto Contador and Lance Armstrong during 2009 Tour de France.
Tension started in the opening week of the 2009 Tour, when Armstrong benefitted from a split in the peloton and usurped Contador as Astana's best-placed rider.
In a recent interview with Valentí Sanjuan, Contador recalled the battle inside the team, which included Armstrong telling him "don't f*** with me."
"My main objective as manager was to win the Tour, and my biggest fear was that we'd lose it squabbling between ourselves," Bruyneel said. "We had a very strong team, and I had to manage two types of winners. All my decisions were in favor of the [Astana] team, not of Armstrong's 'team', or Contador's.
"I knew very well that, in 95 percent of all cases, our card to play was Contador," he said. "Both Lance and Alberto wanted to win. They do not have easy characters, not even with themselves. I had a very close personal relationship with Lance, and up until that Tour, a very close, professional relationship with Alberto."
"Remember that Lance raced in 2009 for free. He received no money from the team. He wanted to race, and he knew he'd make money from other sponsors," Bruyneel said. "The agreement with the team was simple — Lance was a rider at Astana, he wore our jersey, but the rest of his components he had the freedom to use whatever brand he wanted to. One of the top reasons for Lance's return was to expand the reach of his foundation. He raced with a different, specially-designed bike at every race, and later sold them for his charity.
Bruyneel laughed at suggestions that the team was trying to sabotage Contador's equipment. Contador claimed that his mechanic slept with his bike in his room at night to make sure there were no surprises.
"The aero wheels for the team were from a Trek subsidiary, while Lance rode other wheels. If Contador thought there were other wheels, and that he bought his own, well, that was his decision. In 2009, [Contador] had the best equipment from the team for his use."
"If his bike was with Faustino [Contador's mechanic], that is a mental fabrication of someone who doesn't trust anyone. That's paranoia," Bruyneel said. "That's his problem, somehow it entered his mind that someone from the team was going to do harm to his bike. That's the most ridiculous thing I've ever heard. That would never occur to anyone what he's asserting. He was still young in 2009, and the three or four people close to him had a lot to do with how he viewed the situation. [Contador] wanted to win, and he won because he was the strongest, but a strong rider cannot win without a strong team."