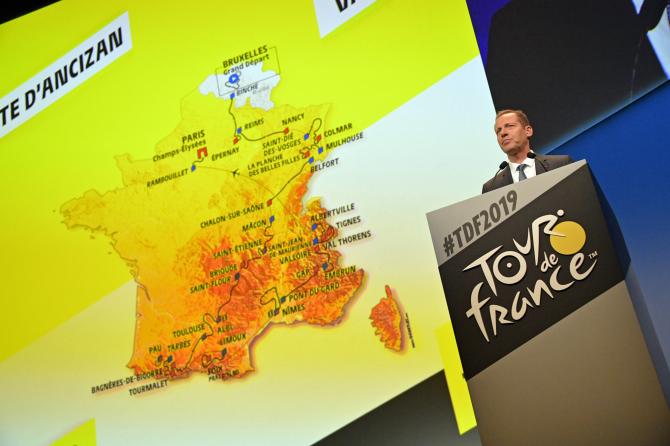 (AFP) – Tour de France organisers threw down the gauntlet to the climbing specialists when they unveiled the most mountainous edition in the 106-year history of the event, the 2019 edition featuring a record 30 mountain passes and five summit finishes.
With a nod to Belgian legend Eddy Merckx, the 2019 Tour begins in Brussels on July 6 and ends 3,460km later on the Champs Elysees in Paris on July 28, the opening and closing stages about as flat as it gets on the 106th edition.
After Belgium, the Tour heads into the hilly Massive Central region, then down to the Pyrenees before culminating with three consecutive days in the Alps between stages 18-20.
Fans with a taste for classic climbs will not be disappointed, with the Tourmalet, La Planche des Belles Filles, the Col d'Izoard, the Col du Galibier and the Montee de Tignes all on a menu featuring a record 30 mountain passes and five summit finishes.
"This is the highest Tour in history," Tour de France director Christian Prudhomme said Thursday in reference to the record number of climbs.
"It's going to be a tough, tough, tough race," said four-time champion Chris Froome. "I'm disappointed there isn't more time trialling, I thought there would be, and those five summit finishes mark this out.
"But I can tell you Team Sky is celebrating its 10th anniversary and we really would like to win this Tour," said Froome.
Marketed as the Centenary of the introduction of the yellow jersey, in 1919 — an innovation for roadside fans to identify the race leader — next year's edition "is a way of paying hommage to the yellow jersey," added Prudhomme.
"Combining that with the 'Grand Depart' in Brussels is a wonderful way to honour the man who best represents the image of the yellow jersey, cycling's greatest ever champion, Eddy Merckx," Prudhomme said.
Although featuring seven mountain and five hilly (or medium mountain) stages, there is also room for seven supposedly flat stages that are best suited to the sprinters.
"We are virtually guaranteed wind on one of those and confident there will be wind on a second one too," said Prudhomme.
Asked where that left the sprinters, Prudhomme said cycling's fast men were too proud to let a few hills stand in their way.
"Mark Cavendish, the greatest sprinter in Tour history, showed last year the attitude our sprinters have," he said.
Cavendish last year was one of several sprinters to struggle through a difficult mountain stage only to be eliminated after missing the time cut.
"The Champs Elysees is still the most mouth-watering sprint on the cycling calendar and they all want to get there," he explained.
Britain's Cavendish, who with 30 stage wins is just four short of Merckx's Tour record of 34, said: "It might look harder but the 2019 Tour will be easier to finish than the 2018 one, which was virtually impossible for a sprinter like me."
With an abundance of potentially decisive mountain stages, the scope for stealing time from rivals during long time trials has been limited.
Next year's edition features a 27km-long team time-trial on stage two around the city centre of Brussels and just one other, individual time trial over 27km on stage 13 on undulating terrain around Pau.
"The planning here means it is impossible to win this Tour unless you are a great climber," Prudhomme said.
Defending champion Thomas said he was still just trying to enjoy the fact he was champion.
"It's been crazy since Paris," he said. "And it's nice to be here to see this live presentation, but now I need to get back on the bike and get back on racing form," said the Welshman.
Route designer Thierry Gouvenou, however, said he felt Thomas's teammate and four-time champion Froome may be stronger next year.
"Of the two of them I'd say Froome was better equipped on this type of route," he said when pressed on the issue.
"Froome remains an iconic leader for Sky, and Thomas has found his Holy Grail'."