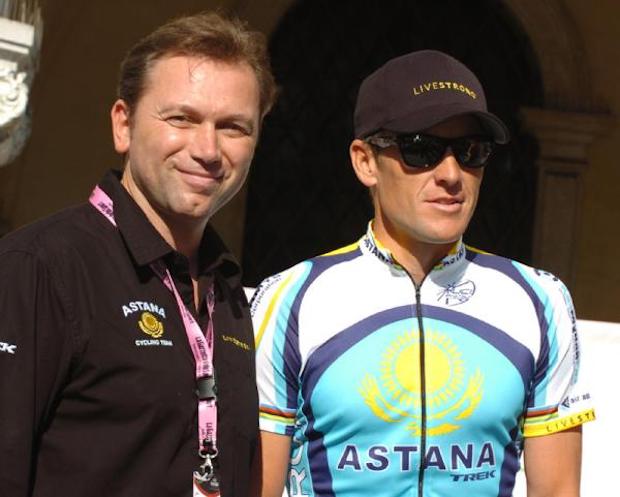 Lance Armstrong's former team manager has been given a lifetime ban from cycling for his role in a doping program that helped Armstrong win the Tour de France seven times.
Johan Bruyneel had been serving a 10-year ban. In a letter posted on social media, Bruyneel announced the Switzerland-based Court of Arbitration for Sport had extended the ban for life.
The U.S. Anti-Doping Agency in 2012 investigated and exposed a doping system used by Armstrong's U.S. Postal Service teams when Bruyneel was manager. Armstrong was later stripped of his Tour de France wins.
Bruyneel's letter struck simultaneous tones of regret and defiance.
"I want to stress that I acknowledge and fully accept that a lot of mistakes have been made in the past. There are a lot of things I wish I could have done differently, and there are certain actions I now deeply regret," Bruyneel wrote, adding "We were children of our era … we didn't always make the best choices."
But he also insisted the legal process against him was unfair, arguing that as a Belgian living in Europe, USADA had no jurisdiction to open a case against him or issue sanctions. USADA initiated the original 10-year ban, which the World Anti-Doping Agency appealed to the Court of Arbitration for Sport to make it longer.
U.S. Anti-Doping Agency Chief Executive Travis Tygart welcomed the lifetime ban. He also noted CAS gave former U.S. Postal Service team doctor Pedro Celaya a lifetime ban and extended a ban for former team trainer Jose "Pepe" Marti.
"While it's been an arduous effort to fully expose the truth, our job is to pursue justice even when the road is long and winding, because that's exactly what clean athletes expect and deserve," Tygart said.
WADA General Director Olivier Niggli said the decision was important "for athletes and all others around the world who care for clean sport and the integrity of cycling. It is the result of a long process, which was resisted at every turn by these men, who by their actions did a great deal of damage to their sport."
Earlier this year, Bruyneel also was ordered by a U.S. Court to pay $1.2 million in damages in a federal civil lawsuit related to the doping program. Armstrong reached a $5 million settlement with the government.
That lawsuit was brought by former U.S. Postal Service team member Floyd Landis who helped expose the doping program that included using performance-enhancing drugs and blood doping. Landis also was stripped of his 2006 Tour de France victory for steroid use.