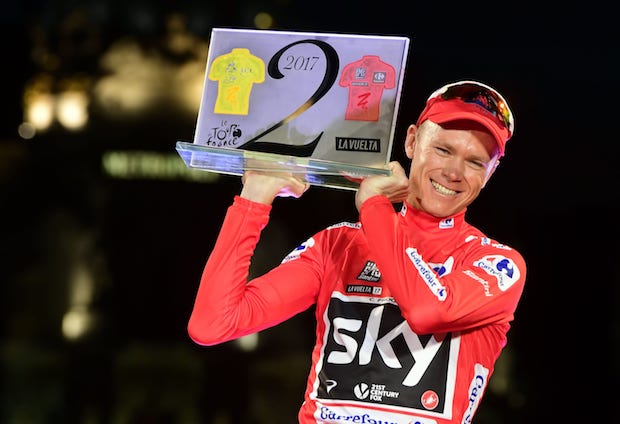 (AP) – Rain, often snow, and sometimes even mud. The conditions at the Giro d'Italia are often everything that Chris Froome dislikes most.
Yet if the Kenyan-born, heat-loving Briton enters next year's race he'll have the chance to become the first cyclist to win the Tour de France, Spanish Vuelta and Giro in succession.
"He has to have the desire to try and become the first rider to achieve this feat," Giro director Mauro Vegni said in an interview with The Associated Press. "It would be historical."
Froome finally won the Vuelta last month to add to his four Tour titles, leaving the Giro as the only Grand Tour he hasn't claimed.
While no cyclist has ever won all three Grand Tours in the same season, two riders have won three or more consecutive Grand Tours over two seasons.
Eddy Merckx won four straight in 1972 (Giro and Tour) and 1973 (Vuelta and Giro), and Bernard Hinault won three in 1982 (Giro and Tour) and 1983 (Vuelta).
But nobody has achieved the feat since the Vuelta was moved to the end of the season in 1995. And only six riders have won all three Grand Tours in their careers.
"I think he should have the right motivation to come," Vegni said this week.
Still, it's unlikely that Froome will want to risk his chances of matching the record of five Tour titles held by Merckx, Hinault, Jacques Anquetil and Miguel Indurain.
After all, nobody has achieved the Giro-Tour double since the late Marco Pantani in 1998.
"If he wins the Giro, who's stopping him?" Vegni said. "He's one of the few riders who can really attempt to follow a Giro victory by also taking the Tour. But first he should grab this milestone. There's plenty of motivation but it needs to be him that judges it worthy of attempting."
Perhaps making matters easier, the Tour will start a week later next year to avoid conflicting with soccer's World Cup – which would give Froome six weeks rather than five to recover and refocus after the Giro.
Froome has raced the Giro twice but not since before he became a Grand Tour contender.
He finished 36th in the 2009 Giro and was disqualified from the 2010 edition for holding on to a police motorbike up the feared Mortirolo pass.
The Giro also remains the only Grand Tour that Froome's dominant Team Sky has never won.
Former Sky leader Bradley Wiggins entered the 2013 Giro as favorite only to struggle with crashes and wet roads before withdrawing midway through the race with a chest infection.
Geraint Thomas, one of Froome's most loyal support riders, made an attempt at winning his first Grand Tour in this year's Giro, only to withdraw with an injured knee following a crash caused by a police motorbike that also affected another Sky hopeful, Mikel Landa.
Vegni is going to have make quite a sales pitch to Froome and Sky team principal Dave Brailsford.
"We're working on it," Vegni said. "I think we'll have a chat with (Froome), his physical trainer and his manager before the end of the year."
Yet Vegni has no intention of paying Froome to come, like previous race director Angelo Zomegnan did with Lance Armstrong in 2009 – when an acknowledged fee of about $1 million convinced the now-disgraced American to compete in his only Giro.
"I don't think that a rider like Froome or like Armstrong was has the necessity to be 'hired,' if we want to use that term," Vegni said. "It's more necessary that they feel it suits them. Riders like them don't need any extra money. They need more of a plan, a goal, and motivation that gives them the desire to participate."
Giro organizers recently announced that next year's race from May 4-27 will begin with three stages in Israel – marking the first time a Grand Tour will be held outside Europe.
The rest of the route through Italy will be presented in late November.
With teams still formulating their plans for next year, Vegni is also unsure whether defending champion Tom Dumoulin or Italian standouts Vincenzo Nibali and Fabio Aru will commit to the Giro. But the focus is on Froome.
"He creates the most interest," Vegni said.