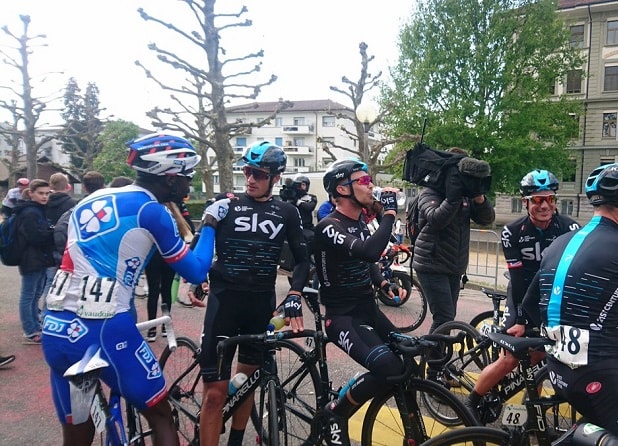 FDJ team have accused Gianni Moscon of deliberately causing the crash that led to Sebastian Reichenbach fracturing his elbow at Tre Valli Varesine.
Reichenbach says that several riders are willing to testify against Moscon and has filed formal complaints against the Team Sky rider with Italian police and the UCI.
"I am going to file a complaint against Gianni Moscon, because he deliberately caused me to crash," he told Le Nouvelliste. "Several other riders saw it happen and are willing to testify in my favour. This could have ended much worse. Moscon literally threw himself at me on the descent.
"My team FDJ supports me as well, to file a complaint," he added.
"This is payback for my tweet during the Tour of Romandie, which led to his internal suspension. But I hadn't even mentioned him by name at the time."
In an interview with La Gazzetta dello Sport, Moscon claims he had no involvement and that the accusations were false.
"It's not true. It's nothing to do with me. We were on a section of rough road and Reichenbach's hands slipped from his handlebars. I've never spoken to him in my life."
The incident is the latest in a series of scandals involving the Italian.
In April, Moscon served a six-week suspension for the use of racist language towards Kevin Reza, who is a teammate of Reichenbach at FDJ.
Last month, Moscon was qualified from the World Championships Road Race after holding on to a team car.