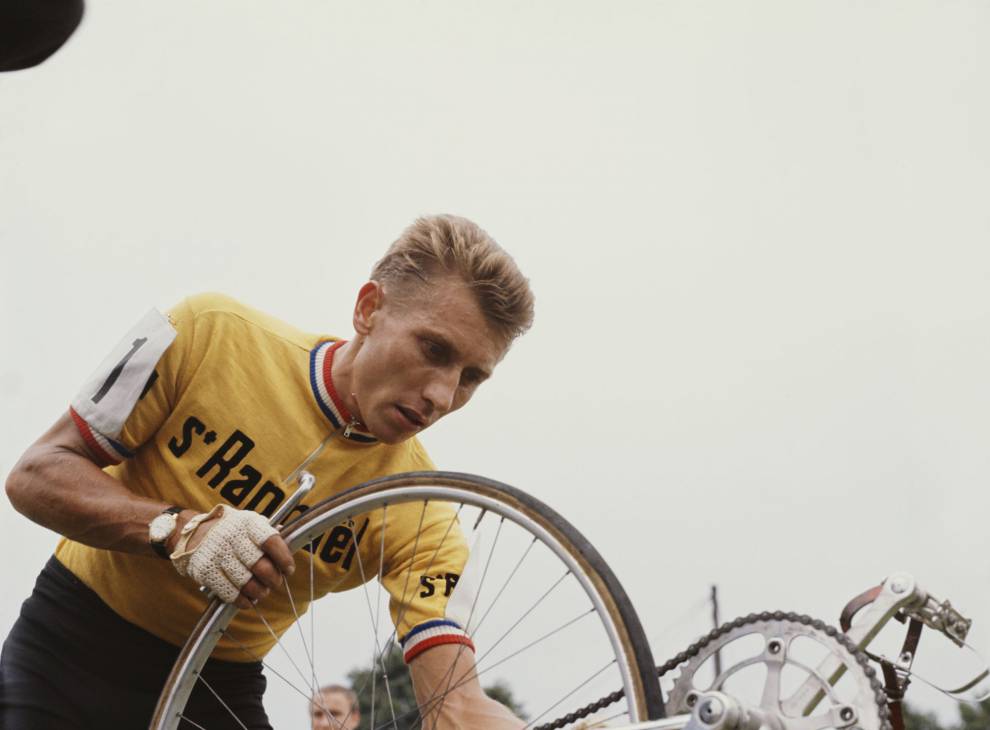 Jacques Anquetil wrote some of the Tour's most celebrated chapters. He first won the race in 1957 as a 23-year-old on the French national team, before going on to win it again four times in a row, from 1961 to 1964.
 

But more important than a list of victories was the way Anquetil dominated cycling. At just 18 years old he won the Grand Prix des Nations, once considered the world championships of time trialing. He beat Tour de France winner Ferdi Kübler, then a teammate, in the 147-kilometer race against the clock south of Paris.
Anquetil's Tour win in '57 effectively saved his country's national team. A year earlier, France's top riders were humiliated when an unheralded regional rider, Roger Walkowiak, raced to Tour victory. Anquetil's win that following year saved the team from its identity crisis.
Years later, undisputed Tour king Anquetil nearly lost his fifth title after overdoing it at a VIP cookout on the rest day—he was dropped on the first climb in the Pyrenees and watched as victory rode away from him. In a moment of panic his team director, Raphael Geminiani, handed Anquetil a bottle of champagne, saying, "Either this works or it doesn't."
For Anquetil, a hearty drinker, the bubbly proved to be an elixir. Battling back from a four-minute gap, he caught and passed archrival Raymond Poulidor to gain a decisive lead.
Perhaps Anquetil's most memorable exploit came not in the Tour but in a special doubleheader. In 1965, with two more Tour victories than any other previous winner of the race, Anquetil sought fresh challenges. He found one with back-to-back victories in the Dauphiné-Libéré and the 600-kilometer Classic Bordeaux-Paris. After clinching the win in the Dauphiné, he hopped on a chartered plane to Bordeaux, arriving just in time for the evening start of the marathon night race to Paris.
Anquetil grew to become well known for his flair off the bike. He loved sports cars and frequently wined and dined in the best restaurants in Paris. But he was no friend of the sport's fight against doping, reportedly once telling the French minister for sport, "You can't win the Dauphiné and Bordeaux-Paris on a sugar cube."
Anquetil died from cancer in 1987 and is fondly remembered for his panache and sporting elegance.
"He was one of my real idols," said Bernard Hinault, another five-time Tour winner. "He was a pure winner. There are those who finish first and those who finish second. Jacques was always first.
"When I was a rider, he directed the French national team and we talked all the time. We would just sit at the end of the bed and talk for hours."