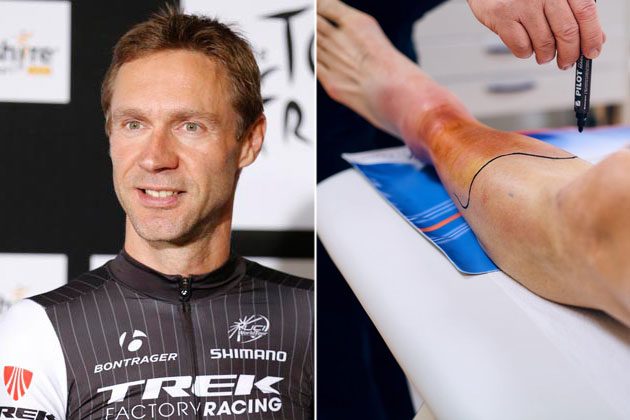 Known for his his "Shut Up Legs" hardman cycling catch phrase, Jens Voigt had to call it quits after a bacterial infection in his leg began to develop.
Voigt was doing the challenge in Berlin to raise money for cancer research. However, under medical advice, on the fifth day he was forced out.
"I woke up with pulsating pain in my leg and I could barely walk," said Voigt, who during his pro cycling career rode in 17 Tours de France.
"Another visit to the hospital made clear that there will be no more running or cycling in the next two weeks."
He later posted: "It's been an emotional week and still surreal what has happened. I ran 168,8 km in four days which ended in a disaster for my legs. I got a bacterial infection which is called erysipelas. Quitting was the right decision. Health comes first and that's the reason why I'm supporting Tour de Cure Australia.
The former Trek rider was well known in the professional peloton for being a 'hard man' during his pro career. He won two stages at the Tour de France and the Critérium International five times.