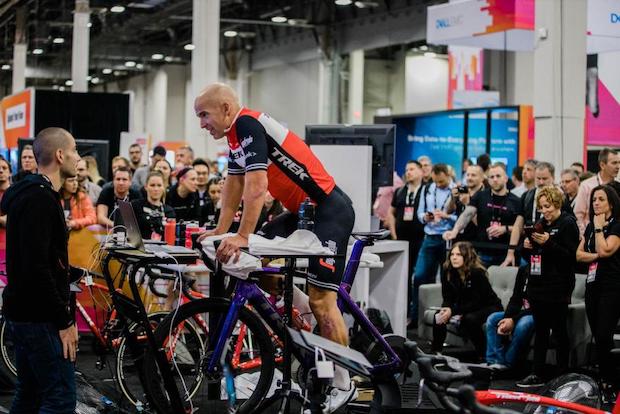 Canadian cyclist Ed Veal claimed two world records after riding 952.6 km on the virtual cycling platform Zwift in 24 hours.
The 43-year-old spent a full day on the turbo trainer in front of crowds at the 2019 Splunk Conference as part of the charity drive.
Veal helped raise $30,000 for cycling advocacy group People for Bikes.
"The strategy was entirely based on things we could control vs. things we couldn't control and how best to be prepared for those surprises along the way," Veal explained.
Veal took in 800 calories an hour to maintain his target pace, as he held between 220 and 230 watts for the duration.
His pacing worked out perfectly, as he held 221w for the entire 23 hours, 17 minutes, and 35 seconds of moving time over the Watopia course.
"The biggest thing I could control was pacing. If you noticed, during the ride my pace remained pretty steady between 220 to 230 watts to hit those checkpoint goals we had originally outlined.
"The second thing was really staying in the moment. A lot of people have asked what goes through my head on a ride like this and frankly, it's a lot of knowing exactly where I'm at in that particular minute and what needs to happen in the next minute to keep me where I need to be.
"Lastly, fuelling my body, keeping up with my hydration and calorie intake was crucial."