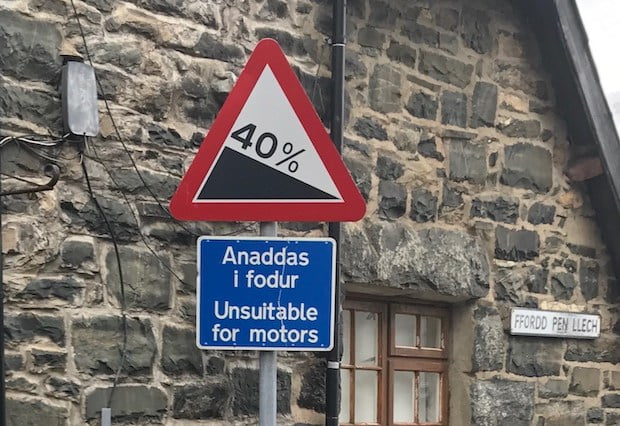 Currently Baldwin Street in Dunedin, New Zealand, holds the title as the steepest street in the world. However, residents believe Pen Ffordd Llech in Harlech is steeper and are bidding to take the crown for the Wales town.
Baldwin Street in Dunedin is a genuine tourist destination. Thousands flock there every year to climb, cycle and skate down its huge gradient.
But Harlech residents claim Pen Ffordd Llech is one degree steeper. Measurements are being taken and sent to Guinness World Records, with a decision to come later this month.
At its steepest, Baldwin St's world record gradient stands at 36%, but the Harlech residents claim their street has a gradient of 37%.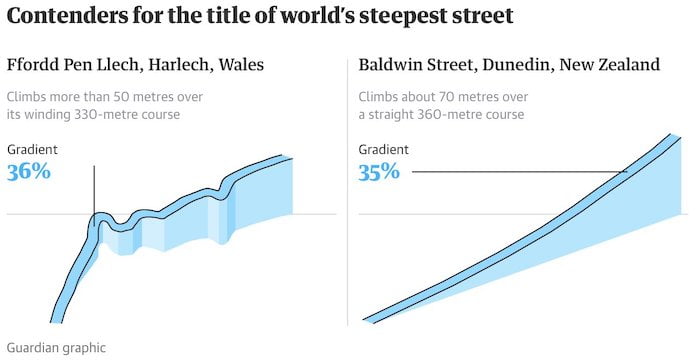 A gradient warning sign at the top of the road gives a slope reading of 40%, but it is normal practice for United Kingdom highway authorities to round off gradients to avoid confusion.
Guinness World Records sets out a definition for the steepest street. It is based on its maximum gradient over a ten metre span, comparing the vertical rise to the horizontal distance.
The street or road is also defined as a public thoroughfare that is commonly used by the public, who are able to drive vehicles across it.
Pen Ffordd Llech checks both boxes. Most of its residents live at the bottom, with shops and other amenities at the top.