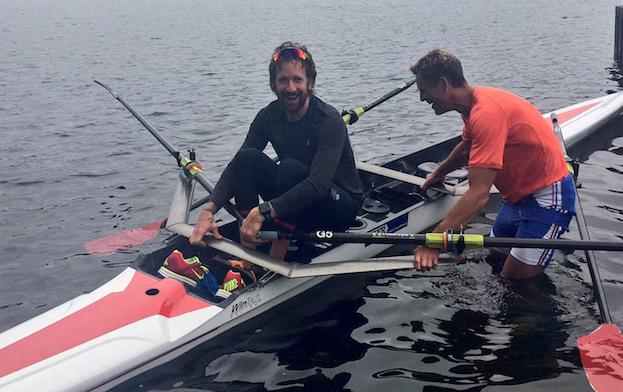 (Reuters) – Bradley Wiggins is to turn his sights on a new sporting challenge when he competes in next month's British Rowing Indoor Championships in London.
The 37-year-old former Tour de France winner and five-times Olympic cycling gold medalist will take part in the rowing machine race over 2,000 meters on Dec. 9 at London's Olympic velodrome, where he set a one-hour cycling world record.
Wiggins, Britain's most decorated Olympian with eight medals in total, retired from cycling last December but has since talked about targeting a sixth Olympic gold — only this time on the water.
"I'm going to see how far I can take it, maybe a sixth Olympic gold? I might be being a bit delusional, but the times suggest I'm not," Wiggins said at a corporate event in June.
British Rowing confirmed that Wiggins would be competing in the event, which features some of Britain's top Olympic oarsmen but is open to competitors from all over Britain between the ages of 11 and 88.
The news of the switch to a new sport for the man popularly known as 'Wiggo' to his British fans has also delighted his rowing competitors.
"It's really exciting that Wiggo is going to be racing," said Matt Rossiter, bronze medalist in the men's four at the 2017 World Championships and who will also be competing at the indoor championships.
"On a personal level, I'm a massive cycling fan and he's probably a large reason for that. What he did in the Tour (de France) in 2012 was absolutely immense.
"He has to have one of the biggest engines ever in world sport, and for him to try and tune it to rowing is awesome. To be lining up against one of your ultimate sporting heroes is an absolute privilege. He just better not beat me."
Wiggins will no doubt be relieved to be back making headlines in the sporting arena after finding himself embroiled in recent off-track controversy.
On Wednesday UK Anti-Doping announced after a long-running saga that there would be no charges over the delivery of a "mystery" medical package for Wiggins at the Criterium du Dauphine road race in 2011.
Wiggins has complained that the investigation "felt nothing less than a witch hunt" and said his life had been made a "living hell" by the episode.