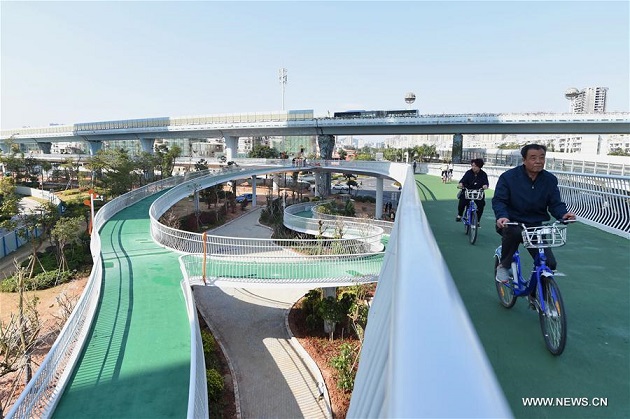 Xiamen's newly opened cycleway is the longest suspended bike bath in the world and it links all of the city's major residential and business districts with 11 designated exit/on ramps. 
Built by Xiamen City Public Bicycle Management, the company says the path allows for 2,023 bicycles at a time with a top speed of 15 miles per hour. The bike path also serves as connective tissue that helps connect people to the main arteries of the city's public transportation network.
The cycleway soars 16 feet above the ground in some spots. While Xiamen is blessed with decent weather, large sections of the floating bike path are sheltered by an even higher road that accommodates the city's elevated rapid transit bus line in the event of downpours.
"I'm a little bit afraid of the height, so I thought I would dare not ride on it. But today I found the guardrail made me feel safe," Xiamen resident Wu Xueying tells Xinhau. "It's nice to ride a bicycle under the blue sky in the sunshine."
Aerial photo taken on Feb 9, 2017 shows China's first bicycle path in the air. The path will be open to all kinds of bikes, including public and private bikes, from 6:30 am to 10:30 pm during the month-long trial, in a bid to promote green transport.