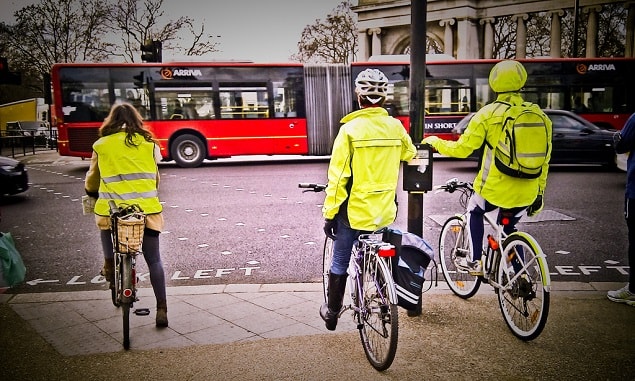 London is a great city, and cycling there can be a fabulous way to see some of the sights and keep fit at the same time. Here, we look at a few of the top rides in London, whether you're new to cycling, getting back into it, or do it more regularly.
We begin with Richmond Park and the outer Tamsin Trail. Richmond Park is the largest of London's eight royal parks and covers some 2,500 acres. It is open all year round — except in the evenings in February and November — and the best thing about it is that cyclists won't have to put up with any vehicles, except taxis and those associated with the maintenance of the park itself.
The Tamsin Trail is some 7 miles long and you can take in some great sights and views along the way, from the Isabella Plantation to Pembroke Lodge and King Henry's Mound. You'll also get to see plenty of wildlife, including deer — they're still wild here — and if you want to stop off for a drink or ice-cream, there's plenty of places dotted around the park to get some refreshments.
Of course, Richmond is not the only park you could visit if you like cycling away from the hustle and bustle of the city, and both Regents Park and Hyde Park are worth trying out if you want a bit of variety. Equally, if you are after a short loop, try Battersea Park — the loop is only around 1.5 miles, but you can go around it more than once.
Now if you are after a long ride, how about cycling from Greenwich to Gravesend? It's about 20 miles and while some sections are on roads, most of it is on the Thames Path.
Get on at the National Cycle Route 1 (NCR1) at Greenwich and you'll be treated to views of Canary Wharf and the O2, nee Millennium Dome, as well as the Thames Barrier before eventually finishing at Gravesend Pier, the oldest surviving cast iron pier in the world. It should take around two hours.
After more of a challenge?
Try cycling from Westminster to Box Hill. It is slightly longer than Greenwich to Gravesend — almost 24 miles — and interestingly, it begins by going through Richmond Park on a route that was a part of the Olympic 2012 road race. Box Hill can be quite a stern test, especially at the end — although remember, the Olympians did it nine times, not just once.
On the plus side though, again there are plenty of places to stop at including the Roehampton Gate Cafe early on and the Box Hill cafe near the end, which is owned and operated by the National Trust.
Another ride that takes you out of London — but is rather easier — starts at Putney Bridge and finishes at Windsor Castle. It is about the same distance as going from Westminster to Box Hill but puts you back on the Thames Path via Hampton Court Palace on the NCR 4 (going in the opposite direction to Greenwich and Gravesend). Look out for aircraft as you pass Heathrow Airport and views of Thorpe Park — you can't miss either! — and then enjoy the countryside as you get closer and closer to Windsor.
After any of those rides, you can take a deserved rest, and catch up on your favourite TV programmes or have a read and see what is going on in the wider world, for example, who might or might not be favourites for the U.S. Open or any other sporting events that take your fancy. You've definitely earnt the chance to put your feet up…at least until the desire to do another ride kicks in again.