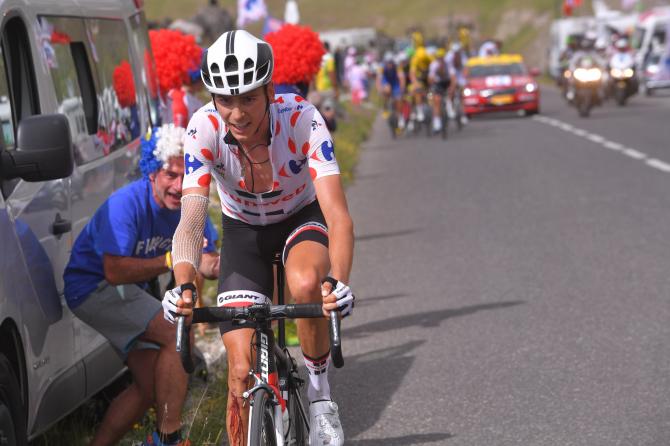 Romain Bardet and Thibaut Pinot have been widely tipped to become the next French Tour de France winner, but three-time champion Greg LeMond believes Warren Barguil is the man to watch in the coming years.
Pinot finished the Tour in third place in 2014 while Bardet was runner-up last year and lies third overall in the current edition with four stages remaining and race leader Chris Froome seemingly in control.
Barguil is 10th, 8:52 off the pace but he has been mostly focusing on the mountain classification's polka dot jersey, while also helping out Sunweb team mate Michael Matthews in his quest for the points classification.
"Barguil has been impressive. He's Peter Sagan, but in the mountains. Peter last year was everywhere, Barguil this year has been everywhere the whole Tour," LeMond  said in his daily talk with Reuters.
"He'd better start thinking that he can win the Tour because he has the ability to."
The 25-year-old Barguil won two stages on the Vuelta in 2013, a year after prevailing on the Tour de l'Avenir. This year he won a mountain stage on the Tour but he recently insisted he did not have what it takes to win the general classification.
"Give him one or two more years. He's right there with the leaders. He is there. After all the work he does, he breaks away early and at the end of the stage he is still there with the best riders in the climbs."
LeMond believes that if Barguil focuses on himself, he will quickly climb the ladder.
"All he has to do is save that energy for the right time. I think he will change his mind. But don't put pressure on him," said the American.
No Frenchman has won the Tour since Bernard Hinault in 1985, but LeMond suggested the day might be close.
"It takes one rider to be on the down side. You take (Froome) and it opens up to other riders. Barguil's got the potential.
"He's 25 and it seems his time-trialing could be improved. Give him a couple of years. Twenty-five to 30, 32 are your prime years. I like his attitude, the way he's always going for it."