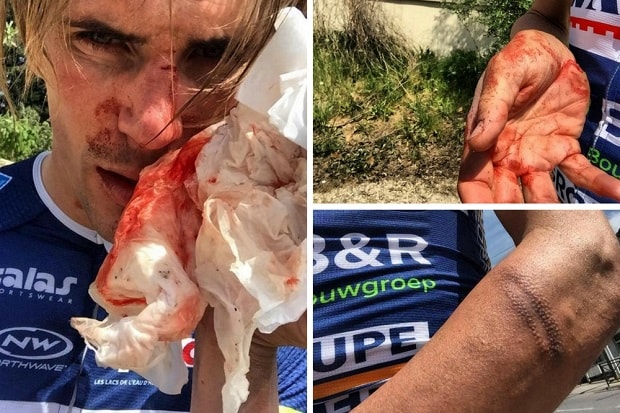 French rider Yoann Offredo said he was assaulted by a motorist and his passenger with a baseball bat during a training ride on Monday, sustaining cuts and a rib injury.
The 30-year-old from the Wantu-Groupe Gobert team should be able to take part in the Four Days of Dunkirk race from May 9, his team said.
"I was training with two colleagues in the Chevreuse valley (in the outskirts of Paris) when a car raged very close past us. Suddenly the driver braked with the intention of letting us crash," he said in a team statement.
"I wanted to talk to the driver, but she was ready to get out of the car with a cutter blade. In a reflex I blocked the door of the car. Then the passenger got out of the car and picked up a (baseball bat) from a suitcase. With that he hit me and afterwards he headbutted me.
"The police then intervened … A complaint (has been) filed. I suffer from pain on the nose, on a rib and suffer from several bruises.
"I am particularly shocked. I have been in cycling for 15 years and I have never experienced such a thing."