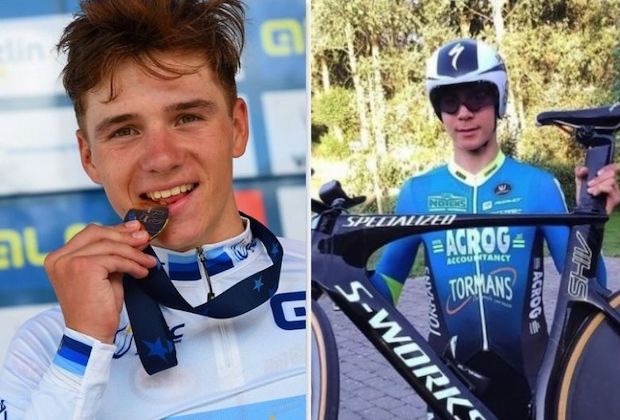 Jumbo-Visma, Deceuninck–Quick-Step and Team Sunweb are all trying to sign "the improved version of Remco Evenepoel", Cian Uijtdebroeks, a first-year junior.
Evenepoel had a witty reaction: "We can talk if he wins the Belgian championships, European championships and a World championships."
Uijtdebroeks owes the comparison with Evenepoel to Jef Robert, the chairman of the Acrog-Tormans team. Robert praised Uijtdebroeks' performance at a training camp in Spain. "He's doing things I've never seen before," he said. "On a seven-kilometer climbing course in Spain, Cian went under Evenepoel by just under half a minute."
Wilfried Peeters and Patrick Lefevere also spoke in Het Laatste Nieuws about Uijtdebroeks, who spent four days with Deceuninck–Quick-Step at a training camp in Italy.
"It is a dangerous comparison," said Peeters. "That creates too much pressure way too early."
Lefevere also nuances the comparison: "It is not the intention to give a contract to every 17-year-old who can ride the bicycle a bit. It really isn't all Evenepoels. I was also very good as a freshman junior."
However, the manager cannot deny that Uijtdebroeks is a special one.
"It's a boy with balls on his body," says Lefevere. "When we asked him to do a training camp, his trainer preferred not to. But he said, 'I'm going anyway.' That's guts. We are now going to see how it continues to evolve."