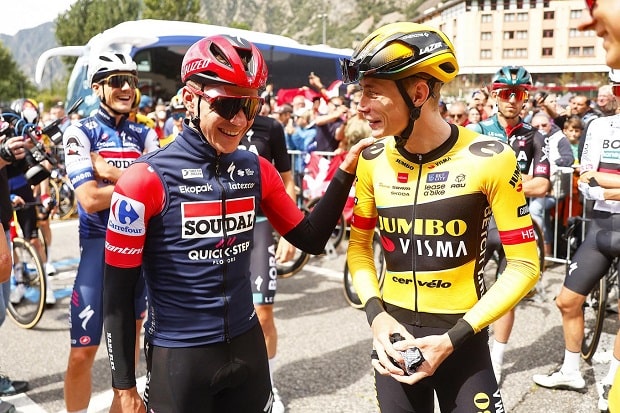 News started spreading lately that Jumbo-Visma and Soudal Quick-Step are in discussions about forming a merge team from 2024.
It seems that Richard Plugge will become the team's CEO, Merijn Zeeman becomes head coach, while Patrick Lefevere becomes a member of the team's Supervisory Board. According to insiders, it is only a matter of time before this spectacular and surprising merge is completed.
When it became clear during the last Tour de France that Jim Ratcliffe was in talks to take over Patrick Lefevere's team with Ineos, the management of Jumbo-Visma came up with the idea of to talk to Zdenek Bakala, owner of Soudal Quick-Step.
After a meeting in Geneva with Bakala, a basis was quickly created to realize this big and most surprising merge in cycling. The idea of a merge team was also immediately embraced by the main sponsors of both teams, Soudal and Visma.
Financially and sportingly, this would be a strong union, giving the team even more resources.
The new team, which will be registered with the UCI as Visma-Soudal or Soudal-Visma, can work with a competitive budget from 2024 to continue to compete at the cycling's top. The team wants to profile itself as a Benelux team in the peloton. While the sporting management will be in the hands of Plugge and Zeeman, Lefevere will supervise from the Supervisory Board.
Patrick Lefevere is now 68 years old and has recently made it known in public that he would rather be active in a different role in the team. He will have this opportunity in this new construction with a supervisory role.
Jumbo-Visma currently employs 27 riders and Soudal Quick-Step 23 riders for 2024. It is still unclear whether this merger clears the way for Remco Evenepoel to join INEOS Grenadiers. Internally, both parties have expressed the desire of the new team to continue with Evenepoel. The question, however, is whether you can put so many top riders like Remco Evenepoel, Primoz Roglic, Jonas Vingegaard and Wout van Aert into same team.