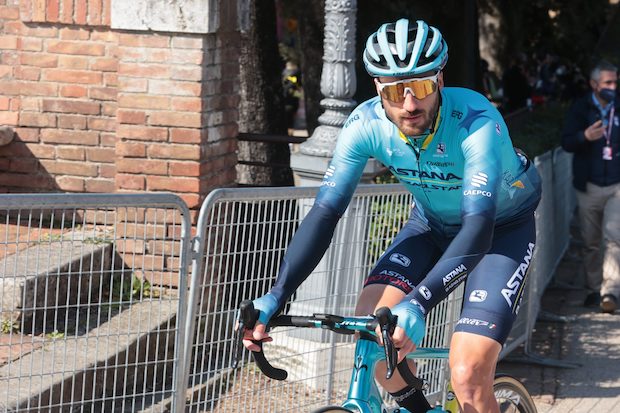 Soudal Quick-Step has signed with a 27th and final rider for next season, bringing Gianni Moscon on board from Astana.
Until recently, the Belgian formation only had 26 riders under contract for 2024, while the selection of a WorldTeam must consist of at least 27 riders.
"I have been bombarded with requests in recent weeks," Patrick Lefevere told Sporza on Wednesday. "The 27th spot has been filled since last weekend."
"I'm going to keep that rider's name to myself for a while, because I don't know whether the boy has already communicated to his team. In any case, he was at the end of his contract with that team."
However, Soudal Quick-Step announced on Thursday that the new transfer is Gianni Moscon, the 29-year-old Italian signing for one season with the Lefevere's team.
Moscon rode for Astana Qazaqstan for the past two seasons, but due to health problems and physical problems he never reached his desired level. In the first years of his professional career, Moscon showed very promising results in various races. His record includes eleven professional victories, but he also finished third in the Lombardia and fourth in Paris-Roubaix.
"I am very happy to join the team," is Moscon's first reaction. "Soudal Quick-Step is one of the biggest teams in the world. I have seen that in all the years that I rode against this team in the classics. It was always the team to watch. As a young cyclist it was always one of my goals to one day race for Soudal Quick-Step and I am happy that this will happen next season. I would like to thank everyone for their trust."
Lefevere is also very satisfied after completing the deal.
"We have known Gianni since the amateurs. He is a very talented rider who has attracted attention with strong results since his time with the juniors. He has also shown what he is capable of with the pros. He will be an important addition to our squad for next season. We are confident that he can show great things with us in 2024."