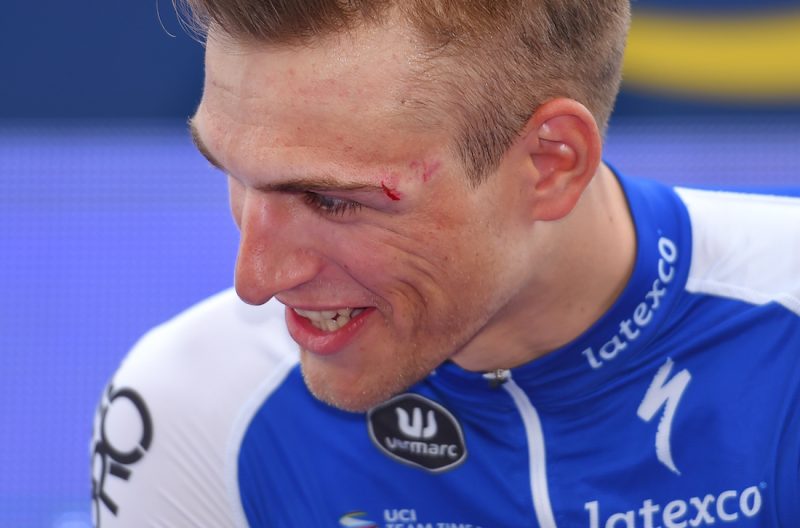 There was controversy on stage three of the Dubai Tour after race leader Marcel Kittel was punched by Astana's Andriy Grivko during the race.
Grivko was expelled from the tour and fined 200CHF over the incident in which he split open race leader Kittel's left brow, leaving it bloodied.
The pair had been jostling for position in sandy crosswinds that decimated the peloton about halfway into the 200km stage when the altercation occurred.
"I have been cycling since I was 12 years old and like everyone I understand that it [fighting for wheels] is normal when the sprinters are fighting for position with 3 km to the finish line. But,when it happens with 100 km to go in such a rough style and under such a tough weather conditions, it brings a very big danger to the riders," Grivko said.
"In the fighting for position, and as it was confirmed by Kittel himself, he shouldered firstly my team-mate Dmitriy Gruzdev and then me, creating a very tense and dangerous situation that could cause a big crash in the peloton.
"I responded with aggressive action to aggressive action from him. Perhaps, I got emotional and it has nothing to do with cycling, but in extreme situations, when there is a question of safety, it is difficult to stay calm."
"In the peloton we are all equal and have equal rights, it doesn't matter if you are a famous sprinter or neo-pro. We should respect each other equally.", Grivko added.
"Once again I apologize to the race organizers, to all the fans, and of course, to my team for this unpleasant incident, which led to my exclusion from the race."