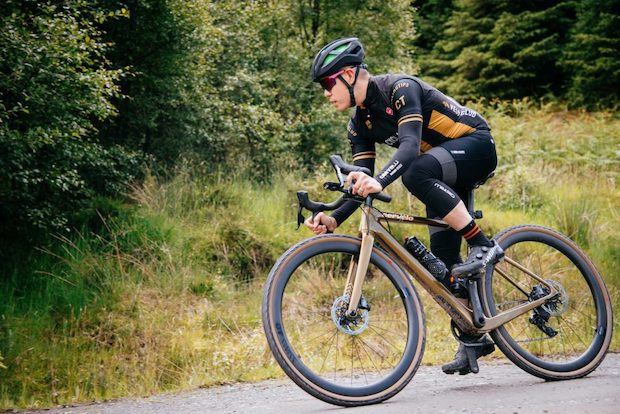 In the last five years or so, a style of cycling has exploded onto the scene and become more popular than ever expected: gravel.
The question number one is what's the family branch of these bicycles, about which you definitively have heard a lot lately. Simply said, a gravel bike is a combination of a road bike and a cyclo-cross bike. As usual, the idea comes from the US, where the countryside is crisscrossed by miles and miles of unused tracks, designed to help fire trucks navigate around remote forests. Tracks that are too technical for a road bike, yet too fast for a cyclocross bike.
Mellow single tracks, farm roads, gravel, crushed cobblestones, tarmac — whatever. It's a machine that's capable of performing on various surfaces while sustaining comfort. Their adaptability, versatility, and ruggedness make them a perfect commuting bike, an ideal light touring or bold bike, a great winter training bike, or simply that one bike that can tackle any sort of terrain you care to try it on.
A road bike is designed to have the least rolling resistance possible, which usually means running a 23mm or 25mm slick tire with between 90 to 100 PSI. This makes it fast on the road, but the rider will really feel any bump or imperfection in the road surface. On the flip side, gravel bikes require more tread to maintain traction on loose, mixed terrain, and a 30- to 40-millimeter tire at about 40 PSI does the trick nicely. This relatively low PSI paired with the higher volume tire helps absorb some of the bumps of the trail, and is more efficient and comfortable (and puncture resistant) over a long gravel course.
Brakes
While disc brakes have been around for a long time when it comes to mountain biking, they've only been popular in the road cycling scene for the past few years. If you look at the pro peloton, you'll see some teams opting for the traditional rim-style braking systems (who are looking for increased weight savings), with others opting for discs (who want maximum brake control and stopping power).
Gravel bikes exclusively run disc brakes. This is mostly due to the fact that, as mentioned above, gravel bikes require a larger-volume tire that a traditional rim brake isn't large enough to fit around (not enough clearance). Disc brakes also stop better in a variety of conditions—mud, wet, dusty—making them more reliable and efficient.
Geometry
The geometry is more relaxed than that of a race bike. The head tube is often taller and the head angle is slicker for more relaxed steering. The bottom bracket will usually be a little lower than a cyclo-cross bike. Gravel bikes are also designed with longer wheelbases, so they're stable on the road and when riding over an unpredictable surface like gravel, and provide extra stability and comfort over long distances.
A sloping top tube offers more stand-over height, which is useful in a get-off, while taller head tubes than what you'd expect to see on a 'cross' or race bike allow for greater comfort in a more upright rider position.
Durability
A gravel bike is designed to be much more durable than a road bike. While they're still available in carbon fiber, they're a heavier weight in order to withstand the wear and tear of trail and gravel riding. Unlike performance road bikes, this also allows the rider to attach racks and bags for touring without worrying about the stress the additional weight puts on the frame.