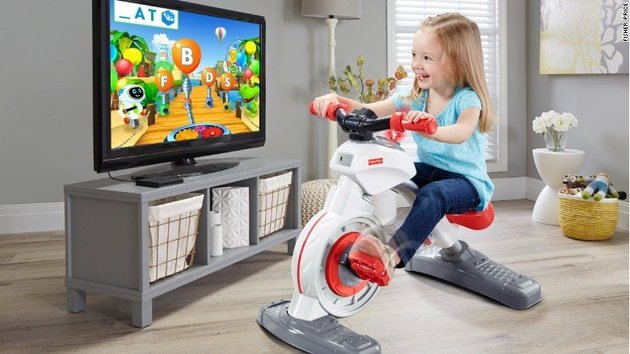 Toy manufacturer Fisher-Price have this week unveiled The Think & Learn Smart Cycle – a stationary bike for toddlers. The exercise bike with a tablet holder attached to the handlebars works with a companion app so toddlers can play educational games while pedalling.
Fisher-Price sees the SmartCycle as a way to help keep kids active and physically fit at a time when the drive is to spend more time sitting around locked into watching TV, playing video games, and spending time on web-connected mobile devices.
Their Think & Learn line up is all about devising new ways to combine learning & play, and for the all the adults who get hooked on interactive smart trainers, maybe there is something to the Fisher-Price thinking. The way they put it preschoolers "learn the most by playing, experimenting, and figuring out how things work", and when kids busy themselves playing and riding the bike at the same time they're building "the foundation to grow into big thinkers".
The trainer itself pairs via Bluetooth to a tablet that can mount to its detachable bracket, or can be synced with a compatible TV. It then runs with a series of apps for iOS and Android, partnering with several other popular children's content brands to link activity on the bike with interactive elements on the games. Fisher Price has actually had a couple of wired versions of the SmartCycle for almost a decade now, but those had been more arcade controllers tied to racing games, and less of an educational item.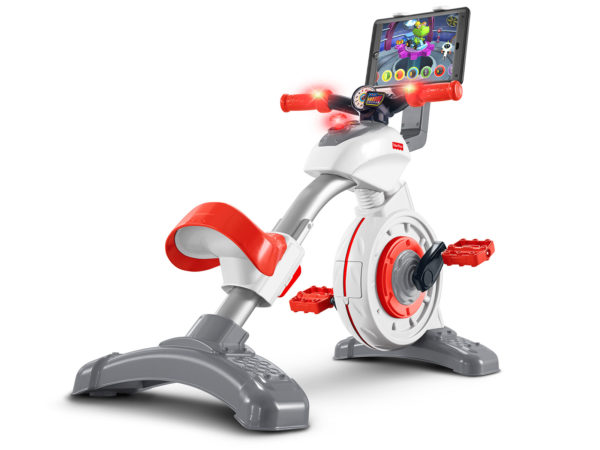 Suitable for three to six-year-olds, the toy is designed to grow with the child. Supposedly, the necessary parts can be expanded and fitted together to keep pace as your child grows.
The new Think and Learn SmartCycle is slated for Fall 2017 roll out, although availability could be as early as July. The kids' smart trainer will sell for just $150 and include one learning game called Mission to Tech City where kids ride to learn the letters of the alphabet. Other education game apps will be available for about $5 a pop, themed around popular children's characters.