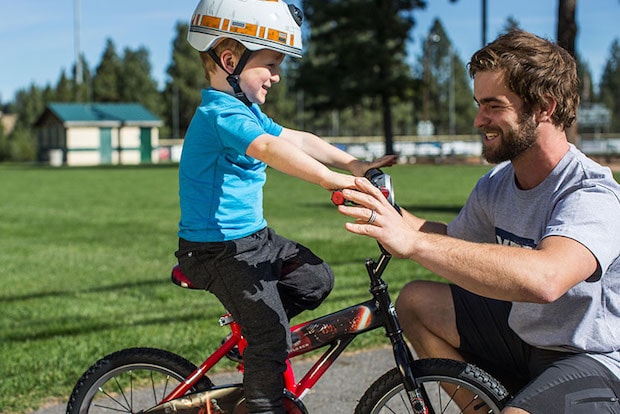 Remember the sheer thrill of riding your first bike? More likely than not, it is one of the presents you will never forget. As a bonus, it gets kids fit, gets them outside, offers them some independence, and most all of riding is fun. The great news is that kids can start properly riding bikes from about 3 years of age.
Children's bicycles are sized by the diameter of their wheels. When purchasing a bike for a toddler, the bicycle should be sized to fit the child at their current height. Buying a bike that is slightly larger can compromise safety and may increase the risk of an accident. To measure a toddler for a bike, the inseam and child's height should be measured.
So how do you discover what size bike is perfect for your child?
The general rule of thumb is to use a sizing chart. Sizing charts are available from all good bike websites and stores. There are slight variations in some of them, especially when moving to adult sizing charts, but for children they do remain fairly consistent.
Height charts are not the be all and end all when it comes to picking your kid's bike. Think of them more as a starting point to help give you an idea of what you after.
If the sales guy in the local bike store insists on only using a height chart when you visit, then turn round and walk away.
By far the most important thing to do is to get a test ride and observe how well your child is able to ride easily and in a controlled manner. There are other factors at work other than overall height. You must take into account the proportions of your kid's body and personal riding disposition.
Safety is paramount. This is why you should never buy a bike that is too large for your child in the hope that 'they will grow into it.' Your child should be able to straddle the middle of the bike with their feet flat on the ground on either side of the bike with a good inch or two of clearance. They should not have to lean the bike one way or the other to get a foot flat down.
You have to consider what happens if they suddenly need to hop off the bike quickly. This is especially true if your kid is a boy and you think you might like grandchildren one day. The bike should only have a slight lean when your kid puts their bottom onto the seat, puts one foot on a pedal and then scoots away.
When your child is riding away, they be seated in a mostly upright position, and their knees and legs should not be bouncing of the handlebars. On the other hand, their legs also should not be completely stretched out at the lowest vertical position of the pedals either. There should always be a slight bend in the leg.