Indoor training is often more of a necessarily evil than an ideal way to ride but Zwift changed that. The company have developed software that aims to transform the experience from a form of purgatory into a fun, social experience.
What is Zwift?
Zwift is a turbo trainer game that enables you to link you turbo trainer up your computer, your iPad and iPhone, letting you ride with other cyclists in a virtual environment, therefore helping to alleviate some of the boredom associated with indoor riding.
Zwift also says that the game can be better than outdoor riding, where "weather, traffic, time constraints and distance from other cyclists can take the fun out of it." We're not sure about that, but if it's wet or cold outside, then an online world may well be preferable.
What equipment do I need to play Zwift?
In order to get the most immersive Zwift experience you'll need to use an electronically-controlled stationary trainer. These devices allow proprietary or third-party software (in this case Zwift) to control the resistance of the trainer, thereby simulating gradient changes and other environmental factors such as wind or changing road surfaces (e.g. cobblestones).
Zwift introduced a monthly membership fee of $10 towards the end of 2015. However, you don't need to commit immediately, as there is a 50km or 14 day (whichever comes first) free trial available to all new members.
In order for your computer to communicate with your trainer, you'll need an ANT+ USB key, which costs somewhere in the vicinity of $50.
This ANT+ key also allows you to connect your computer and Zwift to other compatible devices, such as cadence sensors, heartrate monitors and powermeters.
Setting Up
Once you have all the equipment, you'll need to install Zwift and create an account. From there it's a case of customising your rider avatar. You'll have just one jersey and one bike to choose from initially, but as you spend more time with Zwift and 'level up' your avatar, you'll unlock more.
With your rider created you're then prompted to pair Zwift with any ANT+ devices you might have and input some basic personal data, including weight (to calculate power-to-weight ratios), age, gender and your nationality. At that point you're ready to play.
The companion app
The Zwift smartphone app (for iOS and Android) ads a handful of extra features to augment the gaming experience. You can use the app to get your avatar to flick their elbow (to call a following rider through for a turn), wave to fellow riders, change your view, or to use your smartphone as a second screen for your ride data.
You can also use the app to send out group messages to those around you, or to hand out Zwift's equivalent of kudos: a "Ride On" with a giant thumbs-up that becomes visible on the recipient's screen.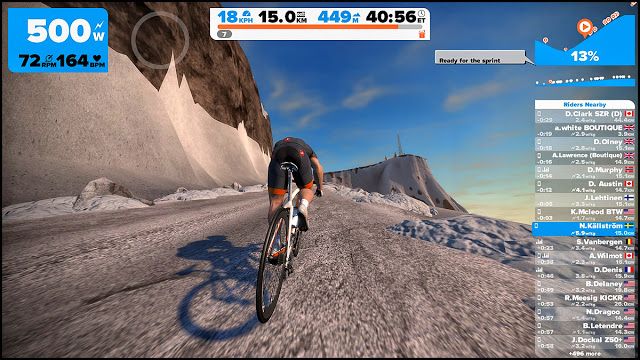 What are the computer requirements for Zwift?
Of course apart from the turbo trainer you're going to need a computer on which to play the game. The minimum computer requirements for Zwift are as follows:
OS: Windows 7 x64 bit, OSX 10.7
Processor: Intel Core 2 Duo
Memory: 4GB
Graphics: 1GB dedicated GPU, or embedded Intel HD 4000/AMD R5
Hard Drive: 4GB of free space
However it's important to note that those are the minimum requirements, and Zwift would recommend that you have 8GB of memory and a 2GB dedicated GPU if you want to play the game and see the virtual worlds in all their glory.
Where can I ride in Zwift?
There are two routes available: Watopia and Richmond. While the Richmond course is a copy of the course from the 2016 Road World Championships, Watopia is a made up course which has been plonked down somewhere in the Solomon Islands according the Strava.