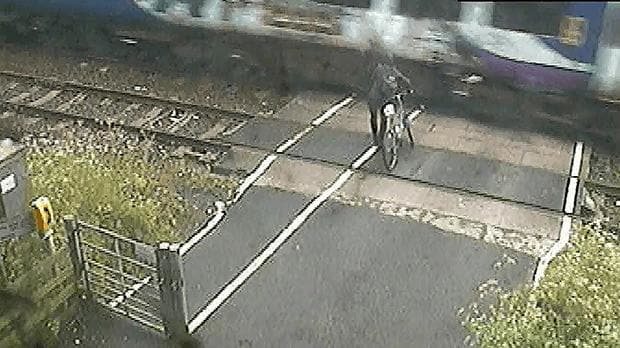 Footage of a cyclist who came within inches of being hit by a train has been released as a railway safety warning.
The incident, which took place at Ducketts crossing near Pudsey, Leeds, saw a cyclist ignoring warning lights and come very close to being hit by a passing train. He turned back at the very last moment when he noticed the oncoming train.
Chief Inspector Lorna McEwan said: "This cyclist was one of the lucky ones. Sadly there are many people who have not been as fortunate, and I have had the heart breaking job of telling families that their loved ones has been killed at crossings or on the tracks.
"Despite our constant warnings about using crossings safely and the dangers of the railway, incredibly some people are still willing to put their lives on the line by ignoring crossing instructions, not looking properly or by trying to dash across crossings when trains are approaching," she added.