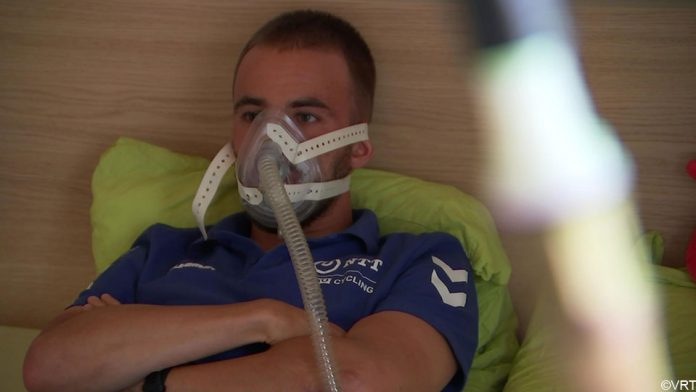 Victor Campenaerts has taken his altitude preparation to a new level, setting his altitude mask to the equivalent of 10,000 metres for one hour each day.
The current world hour record holder has slept several times at an altitude of 4,600 metres in recent months but now he's going one step further.
"Every afternoon I put on a mask for an hour and the oxygen supply is reduced. The concept is called 'Intermittent hypoxic training', scientific research has been done," Campenaerts told Het Laatste Nieuws.
"The extremely low oxygen concentration gives your body an extreme incentive to produce extra red blood cells. I don't think many athletes do this, no. It is an experiment. I am trying to be a pioneer and now have the time to try it out."
Campenaerts puts on a mask for an hour every afternoon. "The oxygen supply is reduced. All I do is lie on the bed, I can't do more. Pretty boring and then I start fiddling with my mobile phone, but I can't concentrate. Every word I type has an error. Very unpleasant. It's always a countdown until it's over."
"This is an extra," said the TT specialist. "Hopefully it will make me a little better again. The intention is to occasionally sleep in my altitude tent to stretch the effect. The preliminary results are very good: I broke all my records in terms of wattages. But I hear that from different riders. Not abnormal. We have never had such a long period in which we can train in such a structured way, that had to pay off."
After consultation with team manager Bjarne Riis, Campenaerts will focus on the time trial this year.
"I can forget the rest for a while. So I race very little. I ride the Tour of the Czech Republic in preparation for the BK and European Championships, and Coppi e Bartali in preparation for the World Championships. Then I'll do the Giro and that's it."