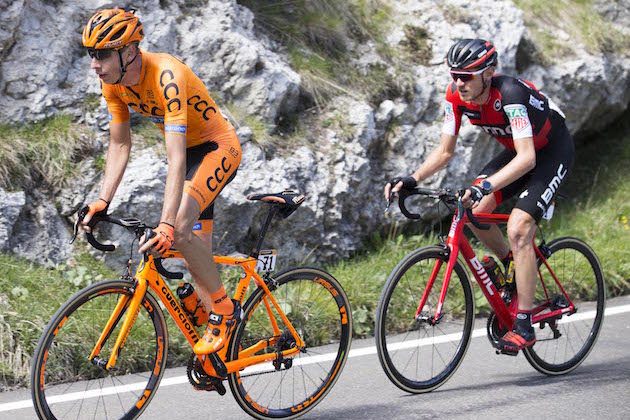 BMC Racing will be known as CCC Team from January 1, 2019 when Polish shoe and bag manufacturer CCC assumes title sponsorship of the team, taking over from BMC Switzerland.
"After announcing CCC as the new title sponsor of Continuum Sports in July, we are pleased to confirm that the team will be known as CCC Team from 2019 and become the first Polish UCI WorldTour team," General Manager Jim Ochowicz said.
"In conjunction with Dariusz Milek, President of CCC, we decided to adopt a short team name that will reinforce the CCC brand as the team's identity. Whilst we are always searching for additional sponsors, CCC will be the sole title sponsor of the team."
"As has been announced in recent weeks, CCC will be expanding their sponsorship in cycling to include a women's team, becoming title sponsor of WaowDeals Pro Cycling, and their current Professional Continental team, CCC Sprandi Polkowice, will continue as a Continental development team. Although the teams will operate as three separate entities, CCC will become a prominent fixture as a title sponsor in the different tiers of professional cycling and we look forward to doing our part to promote the CCC brand in the men's WorldTour with CCC Team."
CCC Team's management structure will remain largely unchanged with Ochowicz and Gavin Chilcott being joined by Robert Krajewski from CCC Sprandi Polkowice in the senior management team.
Sports directors Piotr Wadecki and Gabriele Missaglia will make the move to CCC Team from CCC Sprandi Polkowice, joining Fabio Baldato, Valerio Piva, and Jackson Stewart as the team's five primary sports directors, while Marco Pinotti will remain as Head of Performance, Ochowicz confirmed.
"Planning for the 2019 season is well underway so there is no better time to confirm our sports director team. The rider roster and race program are taking great shape so we are approaching the coming season with a great sense of excitement and motivation to hit the ground running in January. All five of our sport directors have many years of experience in cycling and have been instrumental in some of the teams' biggest wins," Ochowicz said.
"As planning continues we will have further announcements to make with new technical sponsors joining us from 2019 and more riders to add to the already-confirmed list of 20 riders."