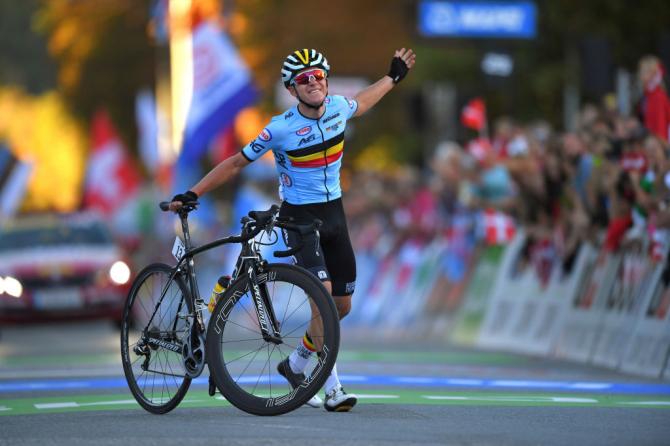 After winning the junior time trial title earlier this week, Remco Evenepoel lived up to his billing and put in a stunning performance in the junior World Championships road race to claim the double.
Evenepoel lost around two minutes on the leading group following a crash on the Gnadenwald climb, before the Belgian chased his rivals down. After working his way through the team cars, the 18-year-old caught the leading group before a flurry of attacks saw it whittled down to a handful of riders.
Heading into the final ascent of Igls, only the German Mayrhofer was able to stay with Evenepoel, who relentlessly rode on the front in an attempt to drop his rival. With 19km left, Evenepoel laid the final blow and escaped alone.
The mini-Cannibal, how the Belgium press have nicknamed him after Eddy Merckx, has won 35 of the 45 races he has entered, includind cobbled classics, the Belgian national TT championship, the European TT and road race championship, and, as of this week, two world titles as well.
"I'm very happy. I actually crashed at a bad moment before the climb and the mechanic didn't see me crash," Evenepoel said. "There was another guy in the team who crashed and he was changing the wheel of the other guy, so I had to wait like 20 seconds, I guess. I was almost two minutes behind the first guys, so I really had to work hard in the back.
"When I was back in the front group and there were just two guys in the front and another two guys – it was no problem because the two climbs were coming in the local rounds. Then there was one more teammate for me, Ilan Van Wilder, he did a great job on the climb. He just made pace and he caught the guys on like 35 seconds. Then there was an American who attacked and I just went behind him and got alone with two other guys at my back. Then I had an amazing descent where I almost dropped the two guys but the German came back after the local round."
Road World Championships Innsbruck 2018 – Junior Men's Road Race results:
| | | |
| --- | --- | --- |
| 1 | Remco Evenepoel (Belgium) | 3:03:49 |
| 2 | Marius Mayrhofer (Germany) | +01'25" |
| 3 | Alessandro Fancellu (Italy) | +01'38" |
| 4 | Alexandre Balmer (Switzerland) | ,, |
| 5 | Frederik Wandahl (Denmark) | +03'20" |
| 6 | Gabriele Benedetti (Italy) | ,, |
| 7 | Alois Charrin (France) | ,, |
| 8 | Kevin Vermaerke (United States Of America) | ,, |
| 9 | Antonio Tiberi (Italy) | ,, |
| 10 | Sean Quinn (United States Of America) | +03'25" |