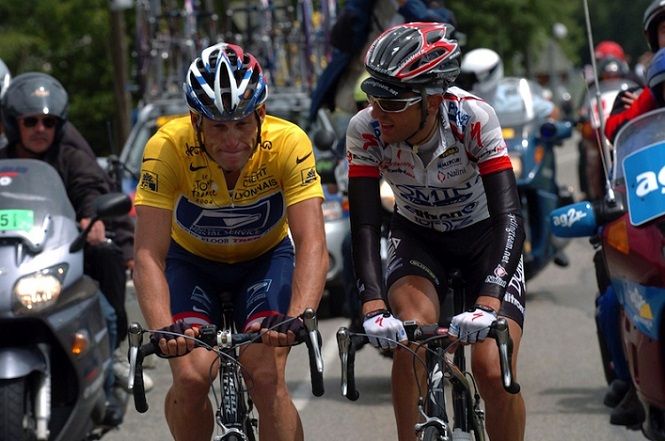 Tour de France 2004, stage 18. Easy stage after a hard mountain day and a difficult ITT. GC riders want to rest, the others try to attack.
After 30km, six men are in the leading group: Flecha, Fofonov, Mercado, Joly, Garcia Acosta and Lotz. They are one minute ahead of the group when Filippo Simeoni attacks. Lance Armstrong follows him. The yellow jersey closing the gap against a domestique, something never seen before in cygling. The two joins the leading group after 14km. Only Simeoni doing the work, Armstrong always in second position.
"Bravo Simeoni, good one! That's what Armstrong told me to tease me. Then, he goes to talk with Garcia Acosta the most experienced rider of the group. After that, Garcia Acosta tells me: 'If Armstrong stays with us, the attack is doomed. He told us he'll desist if you desist and leave the rest of us pursue the finish line.' So, I desisted not to penalize fellow cyclists. Mercado won the stage and the bunch arrived after 11 minutes", says Filippo Simeoni, the man who famously incurred the wrath of Lance Armstrong for speaking out about the dubious practices of Dr Michele Ferrari.
"I could have raced til I was 40, but I was psychologically devastated. From time to time, someone asks me if I regret to have testified in the trial. If I didn't want pain in the ass, it was better to zip my mouth. Anyway, I felt obliged to do it to send a message. I didn't testify against any rider, only doctors."
"I'm not happy for what happened to Armstrong. In this story, there is no winner, we all lost. I don't resent him, rather who was in charge in cycling and let him do what he did. Now I go to schools showing a DVD on my career insisting on the four important things for youth and sport: sacrifice, commitment, training and study. If they ask me if cycling is cleaner now than when I was racing, I say yes. But that's easy. Very clean? I don't know, I just watch it on TV."
"If I would go back to the world of pro cycling I'd do with my head held high. But I don't want to."
"I opened two bars since I've retired. It takes up all my time, I work from 6AM to 9PM. It was better being a cyclist, at least I was doing something that I liked that I loved since I was a baby. Life has changed radically since retiring, even if I'm still always talking to the people around my area, they care a lot for me."