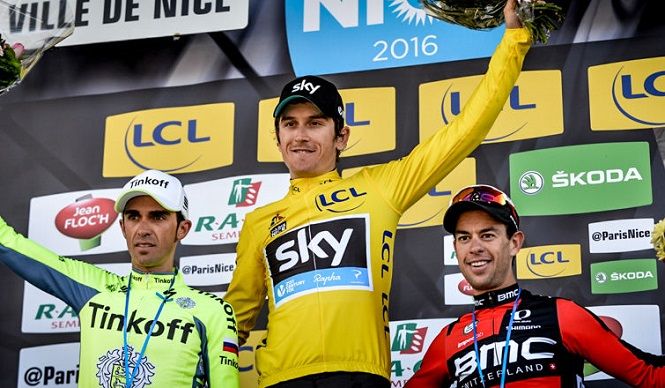 Running from Sunday March 5th to 12th 2017, the 75th Paris-Nice will be made up of 8 stages and will cover a total distance of 1,229 kilometres.
This year's return to competition will feature a loop stage around Bois-d'Arcy which should lead to the first of several victories for the top sprinters of the peloton. Even though echelons or a successful breakaway are plausible outcomes on the road which will take the peloton first to Amilly and then to Chalon-sur-Saône, the next two stages offer the fast men a couple of opportunities to strike back.
The yellow jersey is likely to change hands after stage 4. After a thick blanket of snow frustrated its debut in 2016, the riders will tackle Mont Brouilly one by one at the end of a 14.5 km individual time trial. The final 3 kilometres, with an average gradient of 7.7%, will separate the wheat from the chaff.
Following this sensational battle, the stage to Bourg-de-Péage will offer climbers a short respite before the high-stakes trilogy. The final confrontation starts with a stage to Fayence, which has already left a mark on the race. The next day, the Race to the Sun will celebrate its 75th edition with a new record. At 1,678 m, the Col de la Couillole will take the peloton higher than any other climb in the history of the race. The final climb, just shy of 16 kilometres long, comes at the end of a 60 km sequence including the Col de Saint-Martin, a mountain which also featured in the famous Nice–Pra-Loup stage of the 1975 Tour de France where Bernard Thévenet ended Eddy Merckx's hegemony.
Although the traditional finish on Promenade des Anglais has been moved in respect of the memorial period declared by local authorities, the finish line will still be on the coast (quai des États-Unis). It will come at the end of a thrilling up-and-down stage around the Nice hinterland. The Col d'Èze, the final climb of the race, could well decide the winner.
Paris-Nice 2017
Sunday 5th March, 1st stage : Bois-d'Arcy > Bois-d'Arcy, 148,5 km
Monday 6th March, 2nd stage : Rochefort-en-Yvelines > Amilly, 192,5 km
Tuesday 7th March, 3rd stage : Chablis > Chalon-sur-Saône, 190 km
Wednesday 8th March, 4th stage : Beaujeu >Mont-Brouilly, 14,5 km (ITT)
Thursday 9th March, 5th stage : Quincié-en-Beaujolais > Bourg-de-Péage, 199,5 km
Friday 10th March, 6th stage : Aubagne > Fayence, 192 km
Saturday 11th March, 7th stage : Nice > Col de la Couillole, 177 km
Sunday 12th March, 8th stage : Nice > Nice, 115,5 km