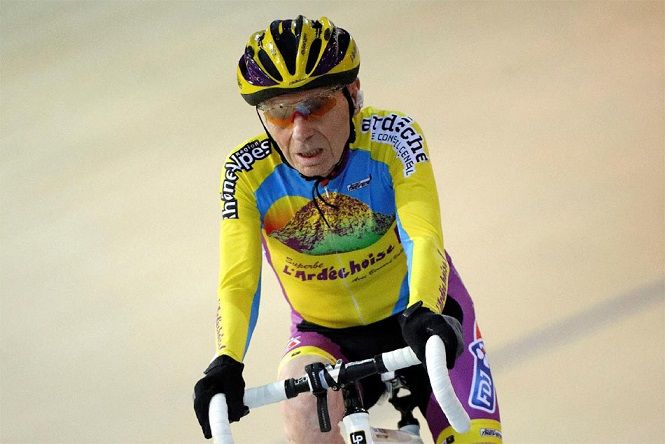 Robert Marchand is chasing another hour record, at the age of 105 years.
The UCI created the Masters aged 100 and over category especially for Marchand, who set his first record in 2010, when he rode 24.251 kilometres at the World Cycling Centre in Aigle, Switzerland.
Three years ago he managed to ride 26.927 kilometres at the Saint-Quentin-en-Yvelines velodrome outside Paris. He says surpassing that distance inside an hour will be tough but he's determined to give it a go, even if the modest centenarian insists: "I'm not in such good shape as I was a couple of years back. If I were, I'd be a phenomenon, and I'm not."
The Frenchman, who was born in 1911, was a keen rider in his youth, but only took up riding again in his 90s, in the meantime having worked as a lorry driver in Venezuela and a lumberjack in Canada, and finding himself in prison during World War Two for failing to instruct the children of Nazi collaborators during his time as a gym instructor.
"I am not here to be champion. I am here to prove that at 105 years old you can still ride a bike," said Marchand.
Jean-Michel Richefort, a coach keeping a watchful eye on Marchand, says: "His heart is exceptional. He has the heart of a 60 year old and above all his cardiac rhythm is very slow and regular. Yesterday we did a 20-minute test and over the 20 minutes his pulse rate never rose above 100."
Marchand still rides every weekend with his local club, and also makes daily trips to the gym to stretch and ride a stationary bike.
"I've done sport all my life, eaten loads of fruit and vegetables, not too much coffee. I do between 10 and 20 kilometres a day (cycling), but I don't train outside. I'm afraid I might catch the flu!"