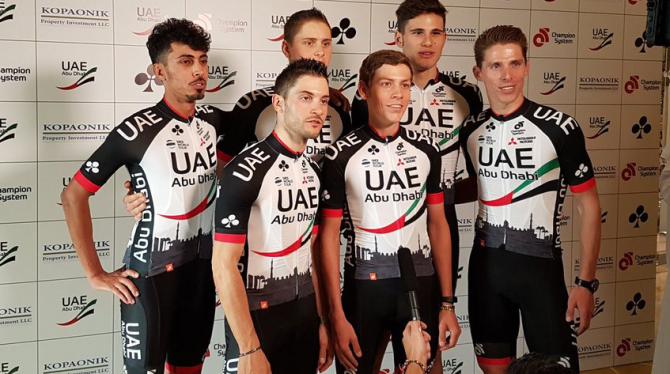 Known last year as Lampre-Merida, and briefly TJ Sport, the new UAE Abu Dhabi team has presented its outfit for its very first season in professional cycling. White and black are the principal colors in the design.
At the press conference to reveal the uniform and the red and black Colnago bikes, the team's general manager Guiseppe Saronni explained how it took him ten days to find the UAE Abu Dhabi backing after the Chinese funding fell through.
"In ten days we defined everything. Perhaps the lack of time actually helped us because we didn't have a chance to think. We knew that we had to grab this chance or everything was over. I want to point out that we were never given extra time by the UCI; we completed our dossier in time for the audit by Ernst&Young and for the UCI Licence Commission.", Saronni told Gazzetta dello Sport.
"We thank Mr Matar Suhail Al Yabhouni Al Dhaheri and his colleagues for their commitment to our team, we'll do our best to succeed both in the competitions and here in Abu Dhabi.
"We're assuming a major exciting responsibility representing all over the world a whole nation: I'm sure that, thanks to the experience of our sports group and thanks to the ideas and suggestions which will come from Mr Matar Suhail Al Yabhouni Al Dhaheri, we'll be able to achieve our goals and to meet his high expectations.
@TeamUAEAbuDhabi @Colnagoworld C60 and TT Bike https://t.co/CJFQ641FdG pic.twitter.com/BMeXZ25c8A

— @UAE_AbuDhabi (@TeamUAEAbuDhabi) 4 ianuarie 2017
UAE Abu Dhabi joins Bahrain Merida in becoming the first Middle Eastern teams in the WorldTour. With Lampre resigned to history, Italy now has no teams in the top tier.