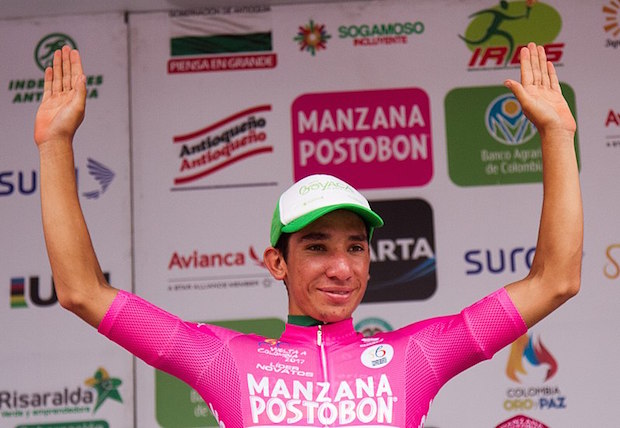 Colombian U23 national champion Robinson Lopez has tested positive for blood booster CERA EPO in a sample that was taken during the the Vuelta a Colombia.
"It was all a part of a trick that was played on me," Lopez told El Tiempo. "A person advised me, but they did it very badly and gave me some supposed vitamins that I took without knowing what I was putting in my body.
"I didn't have any idea that those vitamins were really a prohibited substance, because I didn't mean to take any of those substances, and now my career is tarnished by this situation.
"The person that gave me the vitamins isn't part of the team Boyaca Raza de Campeones and is not even close to the squad," he explained. "My trainers and Nairo Quintana were taken by surprise by my positive test and I would do anything to save the team for them.
"The squad didn't have anything to do with what I did. I did this on my own and nobody knew. My teammates, my trainers, Nairo; nobody was aware of this and I would like to apologise to them because they have always supported me since I arrived at the team. I regret this a lot."
"I talked to the UCI and told them that I was willing to cooperate with everything they ask to make my sanction shorter. And I also would want to raise awareness for a cleaner sport so that younger riders that come after me don't trust people who claim to be friends."
"I had a contract with the Italian team Unieuro Trevigiani-Hemus and now it is cancelled. So what I have to do now is to cooperate with the UCI and keep fighting and getting stronger to keep my career."