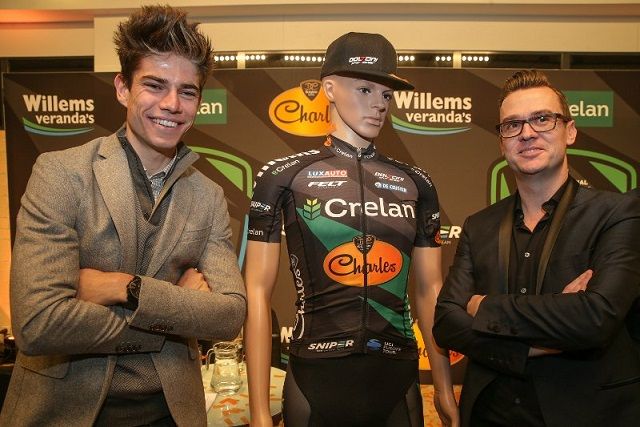 The cyclocross-road hybrid Crelan Willems Verandas team of cyclocross World Champion Wout van Aert showed off its new kit design for 2017, for both the cyclocross and road season. The road team is managed by recently retired pro Nick Nuyens, while the 'cross team is managed by Niels Albert.
"I am delighted to be part of this new team. I'll continue with cyclo-cross, but can follow a nice road programme on this team, and so prepare for the cyclo-cross races. I want to ride short stage races like the Tour of Belgium and Ster ZLM Toer, besides some one-day races," Van Aert said at the presentation of the jersey.
"The Tour of Flanders and Paris-Roubaix is part of my dream, but that certainly won't be in 2017. If I ever race Flanders it will have to fit into my program. I want everything planned in advance, so I will continue for a while as a cyclo-cross rider. The aim is to be a stronger rider and that can come from having a solid road programme."
The road team will be anchored by Stijn Devolder and Timothy Dupont.
"We hope to have a good road programme. That would be logical because we're a Professional Continental team. I hope the Belgian race organizers will help us participate in the bigger races. We have a solid team, with guys like Stijn Devolder and Timothy Dupont, within our ranks. Devolder wants to shine again. Dupont wants to confirm his results of 2016 and with Van Aert we have the world cyclo-cross champion in the team.", said team manager Nick Nuyens.