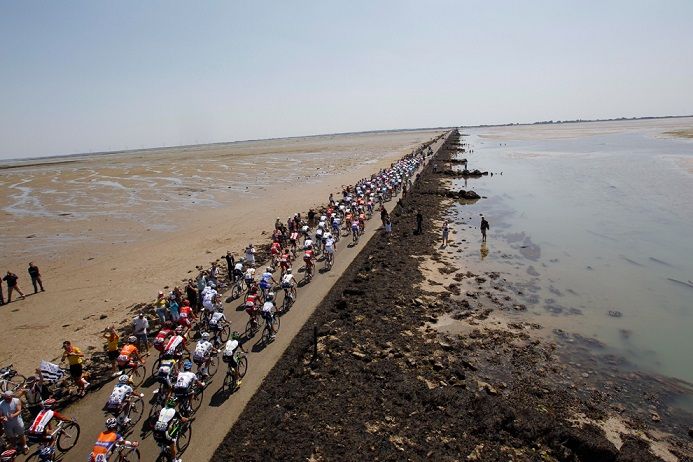 The infamous Passage du Gois will host the start of 2018 Tour de France, organizer ASO revealed on Tuesday.
The Grand Depart of the 105th edition of the Tour will start on June 30, 2018 on the 4-kilometer Passage du Gois — a natural and periodically flooded land bridge from the island of Noirmoutier to the Vendee department in the Loire region — with a 195km flat stage. What makes the location unique is the fact that it floods twice a day and is only accessable during low tide.
The road was last included in 2011 but is most known for the mass crash that occurred when the Tour de France passed the Passage du Gois in 1999. Swiss rider Alex Zulle, who eventually finished the Tour in second place at seven minutes from winner Lance Armstrong, lost six of those minutes as result of the crash.
After a second flat stage of 185km, the third stage on July 2 will be a 35km team time trial around Cholet.
The race will then leave the Vendee department the following day, although the destination of the fourth stage and the program for the rest of the race will not be revealed until October.
In the meantime, the 2017 Tour will start in Duesseldorf, Germany on July 1.
Saturday, 30 June – Stage 1: Noirmoutier-en-l'Île > Fontenay-le-Comte, 195 km
Sunday, 1 July – Stage 2: Mouilleron-Saint Germain > La Roche-sur-Yon, 185 km
Monday, 2 July – Stage 3: Cholet > Cholet, 35 km (TTT)
Tuesday, 3 July – Stage 4: La Baule > ???